Trove Joins the Green Game Jam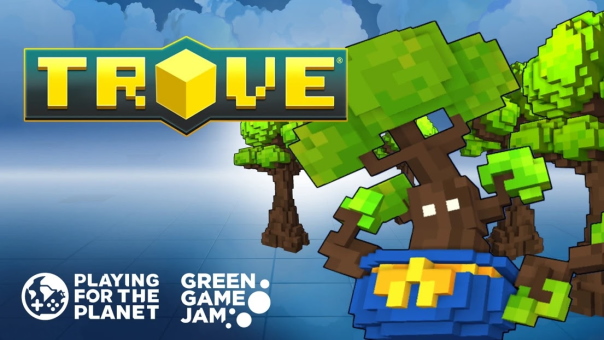 Via Press Release
gamigo is proud to announce its participation in Playing for the Planet's "Green Game Jam" initiative with its Grovin' and Trovin' in-game event for its popular Voxel-based MMORPG, Trove.
In this month-long event, Trovians will have the opportunity to earn a "Hyper Tree Friend" and "Tree Sapling" seeds in several ways:
One Code to Rule Them All: Use the code TROVETREE to redeem for Tree Saplings and the Hyper Tree Friend.
Twitch Drops: Watching Trove streams on Twitch will present viewers with Twitch Drops of Tree Saplings and the Hyper Tree Friend.
A Hunting We Will Go: Do you prefer the old-fashioned method of farming for rewards? So do we! Which is why we are making seeds available to players who would rather dungeon crawl for their Tree Sapling seeds.
Along with earning a Hyper Tree Friend, Trovians can work together towards a community goal of 1,000,000 planted in-game trees. If the goal is reached by the end of the Grovin' and Trovin' event, all players will also receive the exclusive "Sapling Sower" as a thank you, but only if they work together to make the world of Trove more lush and vibrant, and raise awareness for environmental challenges!
"We are honored to be included in Playing for the Planet's Green Game Jam this year," says gamigo group CEO Jens Knauber. "We know how fragile our planet's ecosystems are. We hope our Grovin' and Trovin' in-game event will help raise awareness on the importance of tackling climate."
The Playing for the Planet Alliance consists of a group of gaming companies that have come together to collaborate in different ways to address the climate emergency together, allowing them to achieve more than any individual company could on their own. Its Green Game Jam, which consists of 40 participating studios, has set a goal to shift 1 million players' food choices to benefit the planet and plant and protect 1 million trees. During its run, gaming industry leaders collaborate to educate and inspire climate action within their studios and amongst their players.
Trove's Grovin' and Trovin' event is now available on PC, PlayStation, Xbox, and Switch and will end on July 5, 2022. Happy planting!
As of January 29th, Okokrim officers raided the Funcom offices and packed boxes of seized documents into a van
by Mikedot
Jagex Games Studio is excited to announce that Block N Load, the online multiplayer shooter, will launch for PC on Steam on 30th April 2015. T...
by Mikedot
As a long time Shin Megami Tensei fan, I was actually excited for Liberation Dx2 on mobile platforms. Guardedly so, of course.
by Outfoxed