Trion Announces PAX West Lineup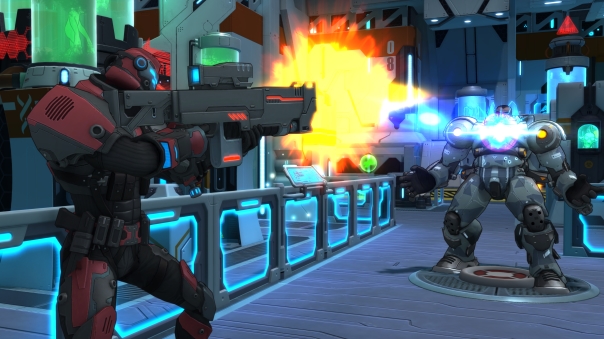 Trion is bringing four of its titles – Atlas Reactor, Trove, RIFT, and ArcheAge to the PAX West show floor to demo all-new content and host a weekend-long competition for Atlas Reactor, showing off the turn-based team-tactics game in all of its competitive glory.
Trion will be featuring all new game content during this show, including:
Atlas Reactor: 4 v. 4, competitive team gameplay of the genre-bending game described as 'DOTA 2 meets XCOM.' All PAX attendees are welcome to compete, and top players will get their hands on exclusive prizes! Simultaneous turns keep the tension high, and the fast-paced action fundamentally changes the way players approach strategy and tactics.
Trove: Trion's hit voxel-based adventure MMO is coming to console! Already played by more than 5 million PC and Mac gamers, fans can check out Trove's console edition for the first time before it launches later this year on PS4 and Xbox One. They'll also be able to check out Trove's all-new class, Dino Tamer, as well as the new Dinosaur biome.
RIFT: Fans will get a first-look at Starfall Prophecy (RIFT 4.0), the game's first premium DLC since it went free-to-play in 2013. Substantially increasing the size of Telara with five huge new zones, two new dungeons and massive battles in the form of Fortress Sieges and Assault Rifts, this is one of RIFT's largest expansions to date. A new dungeon, Prophecy of Ananke, will also be showcased.
ArcheAge: Celebrating its second anniversary in September, ArcheAge will be giving PAX players a preview of ArcheAge 3.0: Revelation, which is launching this fall. This will be the biggest content expansion to date for this beloved sandbox MMO, and will provide even more freedom for players to drive and shape its ever-expanding universe. The landmark expansion includes two new playable races, deeper skill customization for all characters, Fresh Start servers and much more.
Next Article
Four Thirty Three (4:33) is giving Seven Guardian players a treat for Christmas today - a super-sized Seven Guardians update.
by MissyS
Chrono Tales is beginning its second closed beta today, January 7, at 9pm Eastern.
by MissyS
For the fans of military simulation games, Legend of Warships has an exciting event on the way on their Facebook Page.
by Ragachak