Total War: ARENA Match in Association with ESL Airs on May 23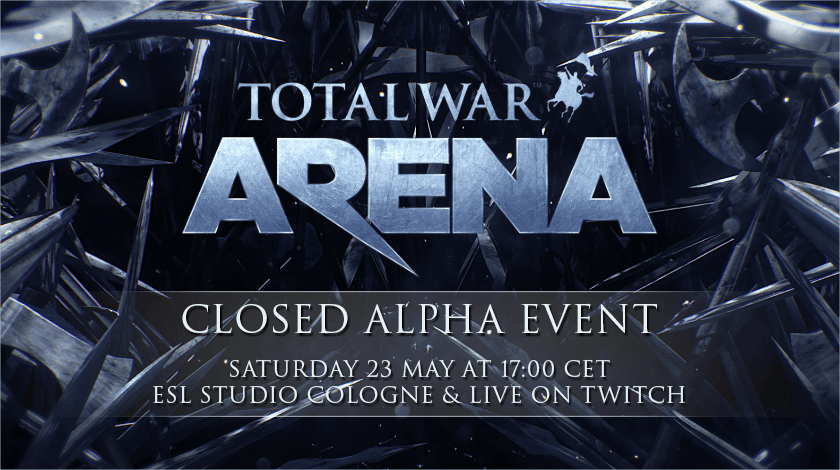 Creative Assembly will be hosting a Total War: ARENA live event at the ESL Studios in Cologne, Germany. Livestreamed across Twitch, the event will offer viewers the chance to see live gameplay from the massive battle strategy game for the first time.
Total War: ARENA is a free-to-play, team-based strategy game, putting players in the middle of epic-scale battles. Using key elements of award-winning Total War™ design, it is made from the ground up for multiplayer real-time strategy fans, with 10v10 players going head-to-head.
The event will feature developers from the Total War: ARENA team, and the opposing sides will be formed of popular faces from the Total War community, with renowned eSports commentator Leigh "Deman" Smith casting on the day.
Hosted live from 5pm until 9pm (CEST) on the Total War Twitch channel the event takes place on Saturday, May 23rd.
For anyone in Cologne that weekend, Creative Assembly and ESL are offering a limited amount of guest passes to the studio. To attend the event, mix with the developers and TW community stars and a chance to play Total War: ARENA, sign up today using the following link: https://totalwararenaesl.eventbrite.com
For further information on the game and this event, head over to the Total War: ARENA Facebook page: facebook.com/TotalWarArena.
To sign up for Closed Alpha go to: https://nda.creative-assembly.com/total-war-arena-closed-alpha. The Closed Alpha is currently only available to EU regions, with US servers coming soon.
Next Article
Jagex Games Studio, creators and custodians of the fantasy MMORPG RuneScape, are pleased to announce that RuneFest 2015 was a success.
by MissyS
Interested players can now visit the official website for a preview of every zone in the huge, immersive world that they will explore.
by MissyS
NGames, a leading online games publisher, is today delighted to announce the launch of a new weapon boosting 'Jewel System' availabl...
by MissyS