Thea: The Awakening Launches Multiplayer DLC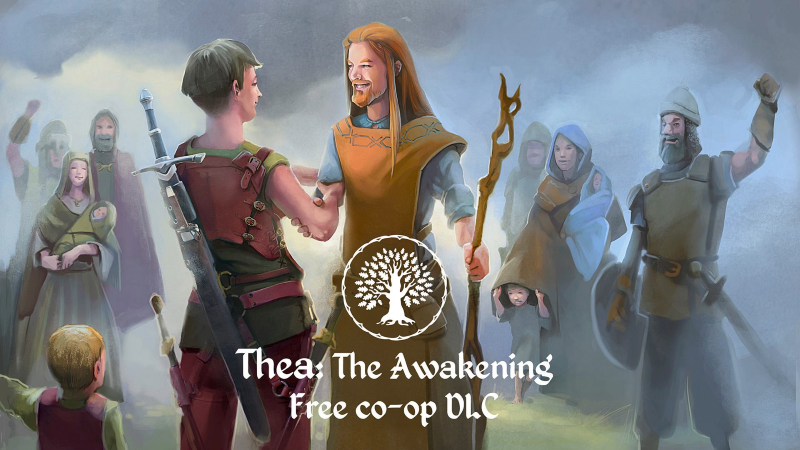 Indie studio MuHa Games is happy to announce the release of the second huge expansion for their successful strategic survival game Thea: The Awakening. The MultiPlayer DLC adds a co-op campaign to play with a friend along with many other new gameplay mechanics.
MultiPlayer DLC for Thea: The Awakening allows gamers to play the entire non-linear story campaign in cooperation with a friend. The players' villages can exchange goods while their heroes explore the procedurally generated world full of mythical creatures and thrilling events. The game remains a turn-based title with both players required to finish their actions before the AI's move.
The new expansion is free for all players who already own Thea: The Awakening or decide to buy it now. During the Steam Summer Sale the game is 40% off with other price drops following in various distribution channels.
Key Features of MultiPlayer DLC for Thea: The Awakening:
Co-op campaign for two players!
A set of new events – fully translated and voiced.
New enemies including Bearded Dwarves, Dwarf Cultists, Bound Spirits, and Karakandza.
Two new unique characters that can join your village.
A set of additional events in English text only (as a separate download).
Improvements to User Interface.
New artwork and icons for crafting, creatures, and dozens of items in the game.
Armors, shields, and some of the enemies rebalanced based on the feedback from the community.
Developers of Thea: The Awakening also plan to re-release Early Access version of the game as a playable demo soon. New players will be able to try the game without any time or gameplay limitations. This unprecedented "full game demo" will give a chance to experience Thea's unique gameplay mechanics and familiarize yourself with its magical world. The demo won't include the MultiPlayer DLC, the previous Return of the Giants DLC and over 140 post-release content updates and features, which can be unlocked by buying the full game.
Thea: The Awakening is a dark fantasy strategic survival game steeped in Slavic myth and monstrosity after an apocalyptic force called The Darkness stroke. The game combines turn-based gameplay, with the tension and grit of a roguelike survival, captivating nonlinear story you can uncover through a series of in-game events, and a unique combat based on a complex card battle game.
Co-op MultiPlayer DLC and Thea: The Awakening are available now and 40% off on Steam: http://store.steampowered.com/app/378720.
Next Article
This afternoon, Smite's patch note stream revealed the notes for 2.18, "The Astral Hunt."
by MissyS
Three new team members have joined the Alterverse team, expanding it to help grow the game and its reach.
by MissyS
Nexon America today announced it has entered into a publishing agreement with United Front Games, the Vancouver-based independent development ...
by Mikedot