The Champion-Collecting MMORPG Nightfalls is Coming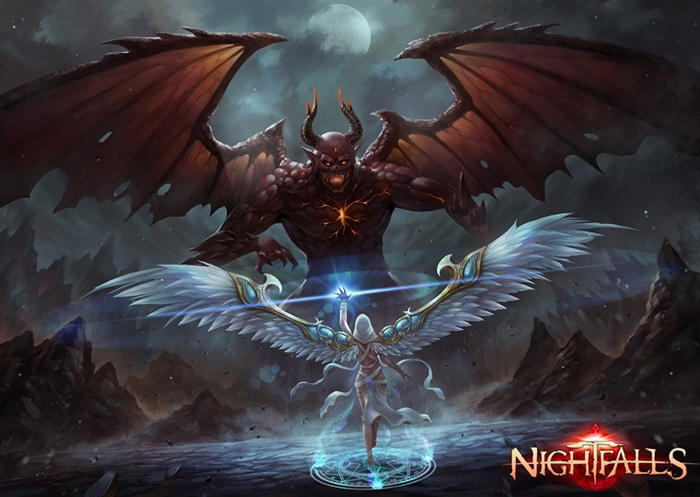 The rapidly growing browser and mobile game company, 37Games, announces its release of a new online RPG experience, Nightfalls, featuring lush environments, massive champion collecting and an immersive fighting system. 37 Game's operation team has been hard at work improving and polishing the experience in preparation for its debut to players around the world.
Darkness Devours All
Set in a fantasy world devoured by darkness, where human beings live in desperation and turmoil, evil has risen once again and demons are looking to retake the world that was once theirs. As a fallen angel named Sherri, you will work with and recruit champions in your quest to quell the forces of evil and restore peace throughout the land. Work alongside mortals to secure a future for all posterity!
Collect Hundreds of Champions
Choose between a male or female character to start your journey. On your travels, you will encounter hundreds of champions whose skills and magic will lend in your fight against the vilest creatures to ever appear on a computer screen.
Personalized Battle
To create a powerful team to fight the forces of evil, you will need to use various strategies and take advantage of the different abilities of your champions. You will also need to wisely choose your equipment to develop a unique character with unique champions to aid in your battles. In the closed beta, there will be dozens of champions available for you to recruit!
Pre-Register
The official website is now live! Pre-register now! Learn more about the champions you'll encounter in your journeys and take a glance at the new concept art for Nightfalls. Pre-register and receive a super-value gift pack: including Demon Fruit, Dragon Shards, and more! Let your journey in Nightfalls begin here.
Next Article
AlternativaPlatform, one of Russia's leading developers for massively multiplayer online games are currently giving fans the opportunity to ...
by Mikedot