TERA's Skywatch: New Heights Update is Now Available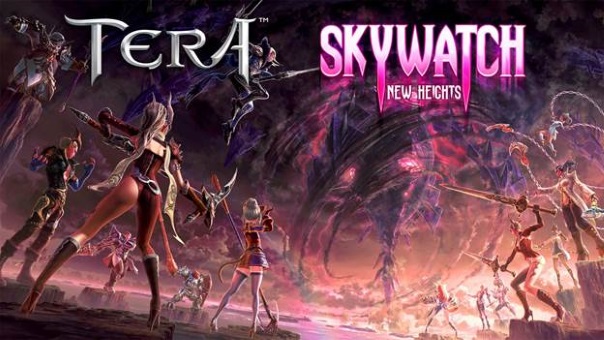 After the servers are back online today (April 9th, 2019), a new update will be available in TERA – Skywatch: New Heights. This is not a full-fledged expansion of TERA, but it does increase the level cap of the game from 65 to 70. The update kicks off with a new quest, "The Nightmare Begins", which will guide players through the new story. There are also new BAMs (Big-Ass Monsters) to battle, Field BAMs. These are larger, more powerful BAMs, which spawn randomly throughout the world of TERA.
Skywatch: New Heights has some other new systems to look forward to, such as Skill Advancement and Gear Fusion systems, to increase character customization potential. Skill Advancement uses experience items earned from Field BAMs, Vanguard Requests, and other sources to gradually improve a skill's performance. This will eventually unlock up to three alternate versions of select skills. These can be freely changed at any time players are not in combat, allowing them to pick the right skill for the job. The Gear Fusion system allows players to combine two pieces of gear together, consuming one of the items and granting additional stats to the other. Additionally, once players hit level 66 they unlock two new gear slots—for Halidoms and Relics infused with the power of the gods.
This update also has a dungeon overhaul, in response to player feedback. Instead of limited numbers of daily entries, characters have a weekly supply of Adventure Coins to enter dungeons. The cost is based on the difficulty of the dungeon, and Adventure Coins regenerate whether or not a player is online. This update also includes 7-player variants of Antaroth's Abyss, Grotto of Lost Souls, and Dark Reach Citadel; as well as solo variants of Bastion of Lok, Sinestral Manor, and Cultists' Refuge. Additionally, all level 20-60 dungeons have been rebalanced for 3 players of any class, removing the matching requirements for tanks and healers. Now players who are leveling new characters should have to wait less to get a party together for some dungeon action.
"Skyreach: New Heights" lays the foundation for TERA updates on PC throughout this year, with more content, features, and systems to be released in the coming months.
Facing off against PvE and PvP opponents is a matter of directing your forces from the standard starting position, then finding a route!
by Ojogo
The latest update for gamigo's ArcheAge arrived (May 17th, 2019) and with it came a new, terrifying threat.
by Ragachak
Endless Legend is a new turn-based strategy game from the creators of well-received Endless Space, Amplitude Studios. That game considers itse...
by DizzyPW