Tales of Pirates II details Augury system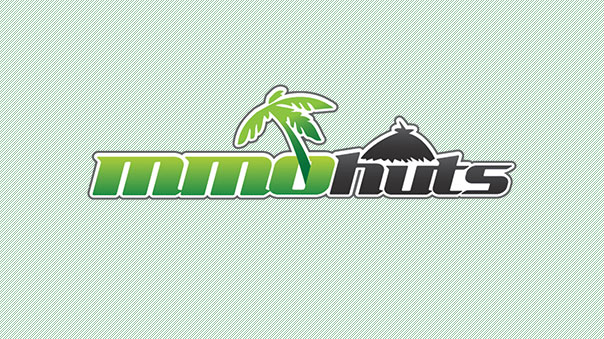 One of the new systems to emerge in Tales of Pirates II during its closed beta testing is the Augury system, which IGG released details of today.
Special NPCs called Augurs are located throughout many of the cities, and will do a fortune-telling service for players. 70% of the time these blessings are positive, 29% negative, but in 1% of the cases, blessings can produce miracles.
Good fortunes offer buffs that increase things like EXP gain and refining rate, speed, stats, free teleportation, repairs, reduced death penalty, and more. Miracles offer players the Goddess' Blessing Shield, which gives players an "impenetrable barrier." Bad fortunes, on the other hand, will bestow a negative buff plus a Cursed Moppet, and a secondary negative effect every half hour which can be shared with others through the Moppet. These negative buffs are designed to not alter game play, and even at times be fun. These buffs also generate Coins for players.
The Original Press Release:
Tales of Pirates II: Augury System Unleashes Oracles on the Pirate World

Tales of Pirates II, IGG's forthcoming 3D MMORPG, is having a productive and exciting closed beta test. Among the many new game elements players are enjoying in this stunning sequel, the Augury system is perhaps the most mysterious and enticing. Players can put their faith in the prophecies of augurs who can foretell whether their futures will be brightened by blessings or darkened by curses.

Augurs are NPCs that ply their trade in most of the cities in the game. From the omens of the stars and the power of the gods, augurs will reveal a player's immediate future. Research suggests these fortunes are good 70% of the time, negative 29% of the time and can result in a miracle 1% of the time. Good fortunes include various buffs, such as increases to EXP gain, refining success rate, movement speed, and maximum HP or SP. Additional benefits include free teleportation, free equipment repairs, decreased Fairy consumption, no death penalty, or other advantages.

If players are lucky enough, they witness a miracle, during which the Goddess' Blessing Shield will descend from heaven and be bestowed upon them. This legendary shield is enchanted by the Goddess and is an impenetrable barrier that will offer players the ultimate protection.

Of course, even pirates can have a bad day. When that happens, a player will receive a primary negative buff that does not affect normal gameplay plus a Cursed Moppet, but their bad luck doesn't end there. They will also suffer from a secondary negative effect every half hour. This secondary effect will manifest through the Cursed Moppet, which players can then use to share their misfortune with unsuspecting nearby pirates. There are many wacky negative effects, including Firewalk, Love-shy, Big Foot, Cold Fever and Borrowed Time. Even bad luck can be fun, though, as reluctant smiles on the faces of unfortunate pirates will attest.

Even misfortunes aren't all bad, though, because both positive and negative effects will also generate Coins players can redeem for gifts, such as equipment and treasure maps.

The oracles of the pirate world are waiting to read your fortune. Visit an Augur to find out what surprises fate has in store for you. This much is certain: if you join the closed beta today, you'll soon discover being a pirate has never been so much fun!

Visit the official website at http://top2.igg.com for more information about the game or to claim a CB key and get in on the action. Visit http://www.igg.com to learn about IGG's growing family of games.
Next Article
Nexon EU launches the official Lost Saga website in preparation for a February beta test.
by DizzyPW
Warhammer 40,000: Carnage, the popular Action-Shooter with RPG elements on iOS and Android, has launched its third major content update.
by MissyS
The record-setting crowdfunded game from Richard Garriott, Shroud of the Avatar announced today that it is moving to free-to-play.
by Ragachak