Swords of Chult Update Available Now For Neverwinter on PC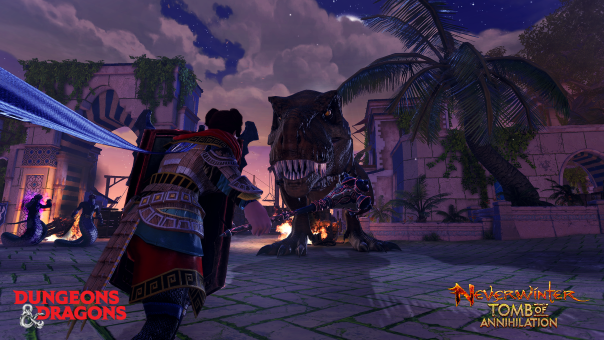 The latest update for Neverwinter on PC, "Swords of Chult" is now officially live!  A dynamic endgame skirmish, PVP adjustments and more await players today! Enemies begin to overwhelm Port Nyanzaru, and players must ensure the city isn't sacked and reclaimed by the unforgiving wilds in the latest Skirmish. It will change each time it's played, offering lots of replayability. Competitive adventurers of all levels can look forward to the PVP changes, as well as new rewards. Further features are below:
"The Merchant Prince's Folly" Skirmish – Port Nyanzaru is filled with riches and the enemies of Chult want them. A defense of the city and its inhabitants is in order in an all-new, dynamic five-player Skirmish for adventurers at the endgame. Save the city for new rewards!
PvP Updates – In this update, the Tenacity stat has been replaced, PvP items now scale even more with the activity, plus armor penetration has been changed further and control effects now have diminishing returns. Swords of Chult also introduces a new set of PvP gear, a permanent Solo PvP Queue and more.
Inventory Management Updates – In an effort to improve the quality of life for item management, new sorting options have been incorporated into the UI allowing players to sort all items, identify all items, sell all treasure and tweak other display options.
Refinement System Changes – Adventurers can also look forward to a more streamlined refinement experience, allowing them to bulk convert items into RP, as well as manage them incrementally as before.
Campaign Progression for Alts – Players with multiple characters in Neverwinter will now have the option to create a Signet of Patronage for several endgame campaigns. These may be applied to alt characters to progress through supported campaigns much faster.
After a long voyage through rough seas (game development is hard), the newest expansion for Paradox Development Studio's hit empire-building...
by Mikedot
It's Mammoth May with the latest update for War of Legends.
by MissyS