Super Dungeon Tactics Reveals More Heroes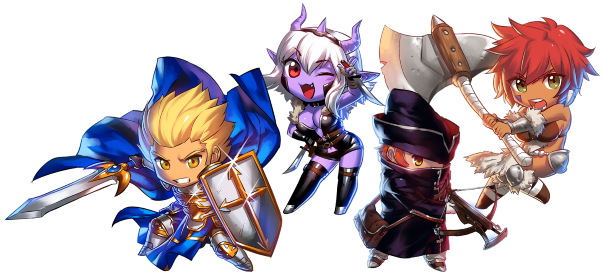 The latest additions to the Super Dungeon Tactics cast feature heroes that specialize in engaging the enemy in a variety of ways – from the shadows, at a distance and head-on for a multipronged approach. The four new heroes revealed include the Claw Tribe Barbarian, Riftling Rogue, Royal Paladin and the Royal Warden.
Partial to a full-on offensive, the Claw Tribe Barbarian is a powerhouse that wields only the mightiest weapons. She's even willing to sacrifice her own HP to increase her attack power as long as it means victory. The Dark Consul's forces know all too well the devastation that her whirling attack brings to their units.
Devilish in appearance and personality, Riftling Rogue offers her party unique abilities thanks to her versatility in wielding ranged and melee weapons with grace. She specializes in striking from the shadows to deliver surprise attacks for considerable damage.
The Royal Paladin is the Goddess' righteous warrior. On the battlefield, he draws the attention of all enemies and heals his surrounding heroes with his divine power. In combinations with his heavy armor and sharp blade, he's a powerful ally and hero.
A proficient hunter and wrangler, the Royal Warden brings control to the battlefield by ensuring enemies can't regroup or flee. His expertise with crossbows and swords allows him to be on the frontlines of battle or in the distance taking out foes from afar.
To learn more about the Claw Tribe Barbarian, Riftling Rogue, Royal Paladin and the Royal Warden, check out Underbite Game's latest blog post. Miss the first heroes? Check them out here.
Next Article
Built by former HAWKEN team members, Burstfire calls for both level-headed deliberation and hair-trigger reflexes.
by MissyS
Daybreak has simultaneously announced the cancellation of EverQuest Next and a spring launch for Landmark.
by MissyS