Star Trek Online: Stormfall Arrives on Console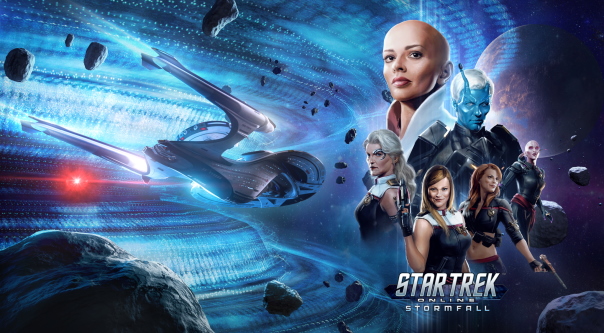 Star Trek Online welcomes console players to its latest update, Stormfall! Featuring original cast members from Voyager, Deep Space Nine, and Discovery, Stormfall offers two new featured episodes, a remastered Starfleet tutorial, a rebuild of the TFO "The Assault on Terok Nor", and the "Heart of the Storm" special event.
The Lohlunat Festival is also ready to return! Running June 30 through July 30, players can travel to the planet of Risa to take part in summer games. This year's prize is the Cnidarian Defender (T6), which can be flown in saucer and jellyfish modes. Via press release:
Festivities for this year's event, all of which progress players towards the new ship, include Powerboard Races, the Biathlon, Horga'hn Hunting, Scavenging with Sovak and the coolest Dance Party this side of the galaxy. Players can also earn credits towards hot new items available in the Summer Event Store, including baseball uniforms, floaters and powerboards based on the Andorian Blue Bores baseball team, and new Andorian themed modules, kit frames, Tribbles and Caracals to make sure it's a cool summer.
Star Trek Online has also teamed up with CherryTree Inc. for special promotions:
For a limited time, those who purchase a Star Trek case or PC will receive a special code to unlock an Elite Starter Pack for each of the three major factions in Star Trek Online, three Elite Services Starter Packs and three coupons which grant 50% a T6 ship (Available for the PC version only). This includes the recently released Star Trek Artifact STO Edition Borg Cube ATX PC Case, which features a special Star Trek Online-engraved backplate, A-RGB lighting, 5-inch forcefield monitor, silvery-blue hand-painted detailing and a laser-engraved collectors crate. Learn more by visiting the CherryTree website.
Next Article
The BLESS team announced this morning that BLESS Online will officially launch on October 23rd, 2018.
by Ragachak
Waren Story returns to the MMO front with Gplayon's first closed beta.
by MissyS