Star Trek Online: Episode Featuring LeVar Burton Available Now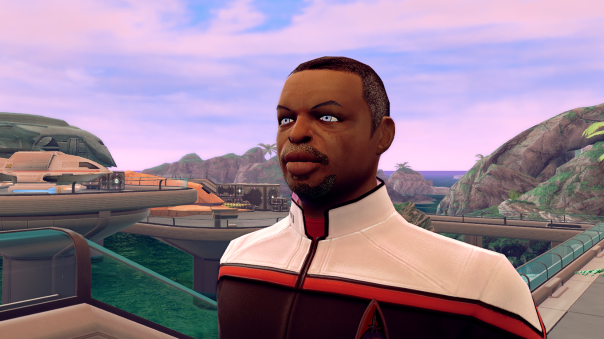 Season 14 – Emergence will arrive on PC on October 3rd. But available right now, LeVar Burton as Geordi La Forge is featured in a new episode, which is available right now, entitled "Beyond the Nexus". He will also feature in Season 14 as well. Captains can log into the PC version of Star Trek Online right now to access "Beyond The Nexus," a new featured episode celebrating the 30thAnniversary of Star Trek: The Next Generation. This mission will have players teaming up with Starfeleet Captain Geordi La Forge to aid a Galaxy-class ship which is under attack. Also on September 21st, a new Galaxy-class interior will be able to be purchased as well.
On October 3, players reunite with Captain Geordi for the game's next major update on PC, Season 14 – Emergence. In the new episode, "Melting Pot," players accompany Captains La Forge and Kuumaarke (voiced by Kipleigh Brown) to the Dranuur Colony in the Alpha Quadrant, established by the recently united Kentari and Lukari species. The update will also introduce a brand-new Fleet Holding, featuring five full tiers of progression and rewards, the first large-scale holding since the introduction of Fleet Starbases. Console players can look forward to this content at a later date.
Next Article
Gamers First has launched a new, Valentine's Day themed event for APB Reloaded, featuring contests and a new customizable item.
by MissyS
The latest update to Legacy of Discord: Furious Wings offers the Metamorph System, which will allow players to become mysterious creatures.
by Ragachak
Nexon M is gearing up for the holidays with several of their popular mobile titles.
by Ragachak