Star Ocean: Anamnesis Begins Valkyrie Profile Collaboration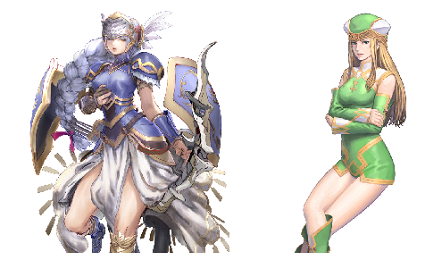 Square Enix is bringing Valkyrie Profile back to Star Ocean: Anamnesis, by popular demand. The second official limited-time collaboration begins today (April 23rd, 2019) and will run until June 3rd, 2019. During this time, fans new and old can collect Valkyrie Profile characters, acquire bonus login rewards, collect new weapons and conquer challenge events. Exclusively for this collaboration, renowned artist Akira "AKIMAN" Yasuda, famous for his work in STAR OCEAN: Integrity and Faithlessness and the STREET FIGHTER series, has created new illustrations for Azure Lenneth and two additional characters, Lezard and Mystina, which can be viewed in-game. Koh Yoshinari, one of the original character designers on VALKYRIE PROFILE, has also contributed new illustrations for Freya and two additional characters, Hrist and Arngrim, exclusively for this collaboration.
Players can also add Azure Lenneth (5-star Ace Sharpshooter) to their collections, as well as Freya (5-Star Ace Invoker) through a limited-time banner. There are also other new characters that will be added later such as Hrist (5-star Ace Defender), Angrim (5-star Ace Attacker), Lezard (5-star Ace Invoker) and Mystina (5-star Ace Invoker). The Limited-Time "The Purged Wizard" event will have its first part available now, with two additional parts to be released later. Players can earn Magic Crystals in this event, which can be used to pull from a limited-time Box Draw to obtain rewards.
Additional Collaboration Events include:
Blood Valkyrie Event – The formidable Blood Valkyrie is accepting challengers now throughout the collaboration period. Players can earn Blood Valkyrie Coins from this exclusive boss, which can be exchanged for rare items, including Weapons, a 5-Star Weapon Ticket, L. Limit Breaker and Barrier Blaster, in the Item Exchange.
Login Bonuses – All players can receive generous rewards, including a 5-star Character Ticket, 5-star Weapon Ticket, Limit Breakers and more, by logging in daily.
New Weapons – Players can add exclusive weapons, including Divine Elven Bow, Ether Laser and Dainsleif weapons to their collections through a limited-time banner.
Returning Banner Characters – Lenneth (5-star Ace Attacker) and Silmeria (5-star Ace Sharpshooter) are back through a limited-time banner, and may also be Awakened for the first time, enabling players to make them stronger than ever before. Players can collect Awakening materials through Deep Space Explorations and limited-time event achievements.
Next Article
Triumph Studios today releases the first Age of Wonders III patch along with plans for continued support and fan interaction.
by MissyS
Space Engineers is currently featured in the Steam Free Weekend.
by MissyS