Soviet Dream Machines Event for World of Tanks Consoles Begins in May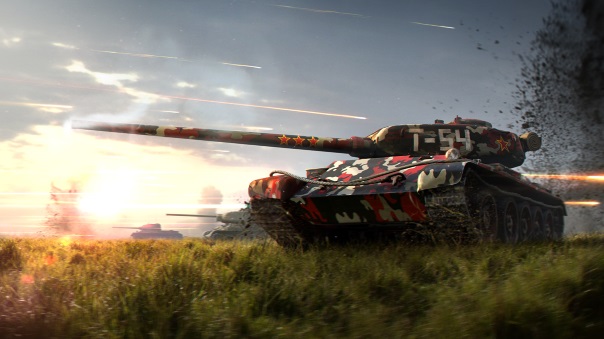 Starting May 1st, 2018, the "Soviet Dream Machines" event will begin for World of Tanks Console, lasting for the whole month. It will also feature the return of the mythical Soviet hero tank, the Motherland, a valuable, highly-desirable tank that only the most skilled commanders will be able to unlock. Originally one of the first hero tanks introduced to the game, the Motherland has attained almost mythical status and remains a highly sought-after prize to this day. Players will need to work hard, but they can unlock the coveted tank by accumulating 1,000 or more points during the Soviet Dream Machines event. Beginning May 1st, players will earn points towards the event whenever they place in one of the top five spots on their team during multiplayer battles. These can be redeemed against ten tiers of valuable rewards. Even if you redeem a reward, the points will keep racking up, so shoot for The Motherland!
In addition to the devastating and justifiably feared Motherland hero tank, fans can unlock the T-29, a new premium tank that excels at unleashing hard-hitting, fast-firing punishment at close-range. It's joined by the heavyweight KV-220-2, the nimble yet deadly T-50-2, and the explosive ISU-122S, along with a host of other prizes including Silver, XP Boost Op and Premium time. A trio of additional Premium Hero vehicles will be released throughout the month of May that can help players earn bonus points towards the Soviet Dream Machines event. From May 1st, the devastatingly powerful Guardian STG joins the game, alongside a new hero direct from the pages of Dark Horse Comics: Kraft's Pz. IV. This Dark Horse Hero comes to the game ahead of the release of World of Tanks: Citadel, a new comic book series from renowned writer Garth Ennis (Preacher, The Punisher) launching on May 9, 2018. A third tank will be announced and added later in the month.
Just to put everyone on equal footing, Soviet tech tree vehicles will be available with up to a 50% discount from May 1-9! Sweetening the experience, players may note that the battle landscape is about to change on May 1st, with the Nomonhan map as new battleground in the map rotation; it is based on the Soviet-Japanese battle of Khalkin Gol, that dramatically changed the course of World War II for the Japanese and served as teaser for what a talented yet relatively unknown Soviet tank officer named Georgy Zhukov was capable of.
Today's patch features the official Ganesh reveal and information about the Summer Rewards and Split Pass.
by MissyS
S2 Games is hosting its first-ever Lore Contest for Strife - and three people will walk away with a set of five beta keys (each).
by MissyS