Ship of Heroes Releases 2018 Year-End Recap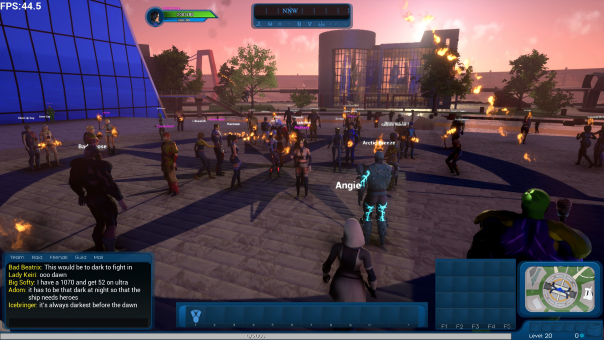 As 2018 passes us by, Ship of Heroes took a look back over the past year, and are looking forward to what's in store for 2019. 2018 had Ship of Heroes second alpha happened and had a very successful login/fps test. It was met with positive support, instead of toxicity, and here's a list of what they're proud of accomplishing in 2018:
They built and deployed several new powersets this year, including our first two healing and buffing sets.  Five more powersets are under construction including and our first controller set.  Internally, we've upgraded to Popcorn FX for impressive visual effects that don't lag the game.

Apotheosis City looks great now; adding a day/night cycle, civilians, and cars is a major accomplishment, and so is all of the sophisticated backend code that makes these features function well.  This is the most commented-on subject for our supporters, and even our devs are often amazed when they see how well the different parts of the codebase work together.  The game environment has gotten dramatically more advanced, as have our prototype mission maps.

They polished and then tested our new combat system in a combat Alpha during February and March.  It was a huge hit with the community; combat in SoH is easy to learn but hard to master, and the devs are having a lot of fun with it in tests.

They have expanded and improved our character creation tool throughout the year, guided by the feedback from our CCT Alpha in late 2017.  We've already shown height, skin color and muscle morph improvements.

They expanded SoH's story, highlighting several heroes, introducing new villains, and adding information about mankind's unique future aboard the F.H.S. Justice.

The SoH team now includes a new sound professional and a new animator.  We've also added skilled and experienced personnel to our coding and art teams.  And we are still looking for experienced talent.

The character and costume art has taken a huge leap forward on both performance and quality.  The SoH team has rebuilt all of the character models and all of the costumes, invented a new clipping suppression system, refined the CCT's morph selection, and more than doubled the total number of costumes available in-game, as well as adding a large new set of civilian NPCs and their clothing.  We've also made every character much faster to meet our target of 30+ FPS in large raids.

Which leads us to their CROM 4 success.  We finally have transcended the one technical issue that was actually uncertain in this entire game.  Can we marry our vision of highly-customizable player characters with high FPS in a traditional MMORPG, without savaging the art to make the game run, as most big studios do just before launch?  In a word…  Yes.  They have already done it.
What's in store for 2019 though? They already have a list of things to accomplish:
In January/February, they are going to upgrade the engine version of SoH and make a number of other technical upgrades driven by community requests.

The next big event will likely be a major test of our upgraded character creator.  They think the community will be excited to see what we've added. Participants should be able to create characters and to save them for the next event.

To have a raid test in which players can use the characters they've created.  This will be a major advancement of the combat systems in Ship of Heroes.

Spending months revising and improving SoH based on the feedback we receive in these events.  Ship of Heroes is a transparent and responsive game, led and staffed by numerous volunteers who want to recreate a friendly home for superhero MMORPG fans.

Later in the year, they'd like to test the leveling system, as well as the in-game effects of augmentations, infusions, and buffing on real team and solo gameplay.  This kind of multiplayer balancing work is key to making the game fun in preparation for the eventual Beta launch.
Wild Terra released their 9.56 Update back on December 15th, and with it came the free "Royal Treasures" DLC.
by Ragachak
Along with the game going into Closed Beta, Supernova will be releasing their teased Alpha Reward, the fierce commander, B.R.O.
by MissyS
The game is eye candy. Even since my open beta preview write-up where I was already dazzled, the visuals have improved tenfold.
by ApocaRUFF