Ship of Heroes Kickstarter Begins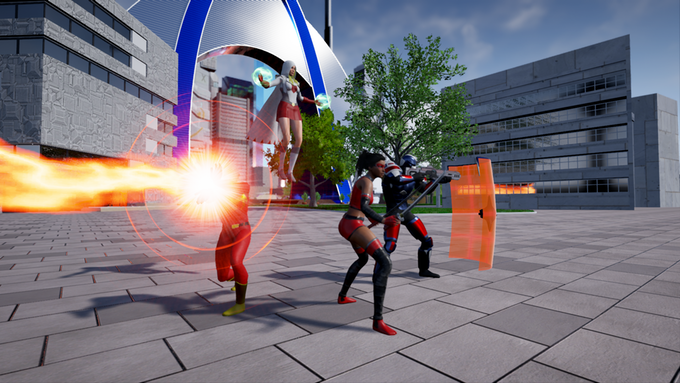 Heroic Games launched their long-anticipated Kickstarter for their new Heroes in Space MMORPG, Ship of Heroes, today.  The Kickstarter aims to raise $400,000 from backers to advance the game into a playable Alpha, and perhaps even to launch, depending upon the funds received from the Kickstarter.  Ship of Heroes is being developed using Epic Games' Unreal Engine 4.
The Kickstarter, which began Tuesday April 4, 2017 , includes a video exclusive to the Kickstarter page that shows off the latest features that the developers at Ship of Heroes have integrated, including a first look at flight as a travel power, and a team combat sequence more than one minute long.  The Ship of Heroes development team has been pointedly open about showing development as it actually occurs.
"We're not one of those teams that says we'll show it to you when we're done – we really want the feedback from our community, and we make changes and improvements based on responses," said McGeever.  As a result, Ship of Heroes is revealing more real gameplay than most MMOs show in their Kickstarters and more integrated, playable elements than any game in its genre to ensure that backers know exactly what they are developing and how far along the game is toward various stages of launch.
Ship of Heroes Kickstarter donor rewards have been announced and will be available for 35 days from the April 4th launch. Rewards include:
Special badges for donors.
Reserving hero character names.
Early access to the powerful Ship of Heroes character creator.
Participation in a Beta test.
Participation in one of the Alpha tests for higher levels of donations.
The ability for some donors to actually use the dev tools and create a limited number of NPCs for the game (to be added at the developer's discretion).
Subscription months, including months that can be given to friends as gifts to launch them into the game.
Top donors can name streets, or help design or name giant monsters in the game, working with the developers who will make final decisions.
The single largest donor gets to co-determine the purpose of one of the iconic buildings in Apotheosis City, working directly with the game developers.  In case of ties, the first to donate wins.
Following a successful Kickstarter, a series of increasingly complex Alpha tests are anticipated for late 2017 and early 2018.  Participants for the Alpha tests will also be drawn from the donors to the Kickstarter.  Beta testing is currently anticipated for late 2018, though crowdfunding success can impact the schedule.  To get the latest news on Ship of Heroes and to follow the progress of the Kickstarter campaign, register for the forums on www.ShipofHeroes.com.
The new networked combat/powers demo video and other fresh previews of the game are currently viewable only on the Kickstarter page.
Next Article
gPotato and Bigpoint have announced a partnership that allows gPotato to offer Bigpoint's browser-based titles through gpotato.com.
by MissyS
Today, InnoGames has released new details about the Engineer, the second of three pirate classes for the upcoming MMO Kartuga.
by MissyS
Blood Bowl, Cyanide Studio's adaptation of Games Workshop's famous Fantasy football board game inspired by the Warhammer world, is a...
by Mikedot