Shakomon Shakes Up Digimon Masters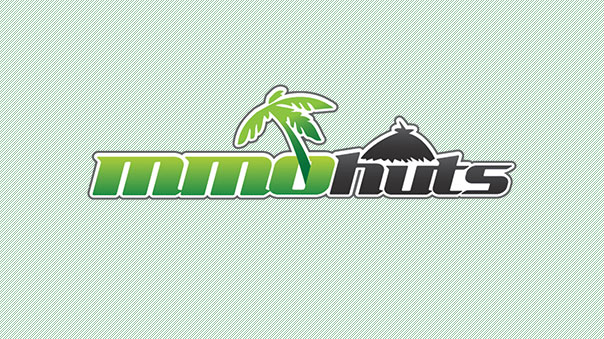 Leading online game developer and publisher Joymax is combining together fan favorite events for a huge April celebration in their worldwide sensation MMO, Digimon Masters, this month! Whether you're looking to gain a new digital friend, grab a new mercenary follower, or grab a sweet new ride, you can do it all! Tamers can peruse the full details of this huge event at http://www.joymax.com and download the game today.
It's what's on the inside that counts: Shakomon may look peculiar with its hard exterior shell, but crack it open and you'll find a cute Digimon secretly hiding inside! They use this cute face to lure other Digimon into their attack range, and then let loose with a Water Screw and Black Pearl special attacks. This Digimon will only be available for sale until April 11th, so Tamers who want to grab this unique crustacean shouldn't dally!
If seafood isn't your flavor, then perhaps the monthly Log In Event will be more palatable? From March 25th through April 22nd, players who return to the Digital World daily will be amply rewarded. Staying logged in for 30 minutes nets players a basket of Mysterious Growth Fruit, at one hour 3 Capsule Coins will appear, after two hours a 1000% Amplification Booster is awarded, and the final reward at three hours is an Easter Bunny coin! Players can earn one of each reward per day.
Bunny Coins can be used in exchange for a variety of items. As players will have the opportunity to win only 30 of these precious coins, they will need to decide carefully what to purchase:
3 Coins: Backup Discs
5 Coins: 7 Day Jogress Chip
10 Coins: 30 Day DigiAura
15 Coins: Reinforced Mercenary Digiegg
20 Coins: Digimon Archive
25 Coins: Random Reinforced Mystery Mercenary Digiegg (Level 4)
Check out Digimon Masters today before all these gifts disappear! Fans can find everything and anything about Digimon Masters Online on its official Facebook page, which has more than 388,000 likes from all over the world.
For those unfamiliar with the Battlefront series, the latest Star Wars Battlefront game is an arcade shooter built upon the latest Frostbite 3
by Abubakr
Valve releases its full length documentary about three Dota 2 players for free on Steam.
by MissyS
Tencent's recent investment in Epic Games seems to have led to quite the interesting partnership with the gaming industry veterans at Capcom...
by DizzyPW