Shakes & Fidget MMORPG Gains New Features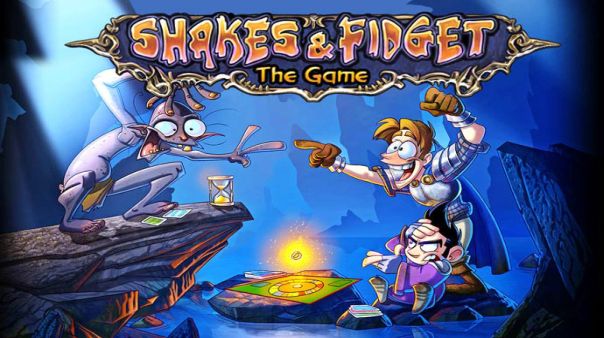 A lot has happened since the original release of the multiple award-winning MMORPG Shakes & Fidget in 2009. Originally released as an MMO browser game, over 40 million registered players can now also enjoy thrilling adventures on iOS and Android. Now the Hamburg-based developer and publisher Playa Games has released the most comprehensive update in the online RPG's history to date. Alongside a complete visual overhaul, the PvP Arena, messaging and guild systems, Weapon Shop, and more, have all been modernized and upgraded, too. A few things have also changed on the technical side: Thanks to new 64-bit server architecture, up to two million adventurers can now play on one world at a time.
Eye candy – Shakes & Fidget sets itself apart with its lovingly designed comic book style, which has lost none of its charm in 2015. As part of modernizing the game's feel and visually harmonizing older and newer features, the update has given the MMO a fresh coat of paint: Hundreds of graphics assets have been completely reworked and, in some cases, drawn again from scratch.
Opponents at a glance – One of the multi-platform MMO's highlights is the Arena, in which heroes duel each other. With the new update, combat against other players is now significantly smoother and offers a richer variety of interaction options. These include complementing manual searches for potential opponents with automatic suggestions. In order to make it easier for players to estimate their chances of victory or defeat in advance, opponents' strengths are directly comparable against their own. Players can now also message each other in the Arena itself, add friends directly, and invite other fighters to their guilds.
Improved communication – To improve communication between players, Playa Games has completely overhauled the mail and messaging systems. Messages from friends and combat messages are now sorted and separated in an organized way according to subject. A discreet but clearly visible mail icon informs players of new messages.
Guild members can enjoy the expanded chat system: Chatting is no longer restricted to the guild window and can now be used anywhere in the game. An increase in the number of visible lines in the chat window also provides a better overview of conversations.
64-bit and much more – From a technical point of view, Shakes & Fidget has had an extensive upgrade: The client has been completely reprogrammed and now runs noticeably more smoothly. The migration to 64-bit server architecture means that a whole two million players can play on a single server, in contrast to the previous amount of 500,000. Despite those extensive technical changes, Playa Games has ensured that all game saves and characters have been kept. Players can continue their adventures in the online RPG without delay and exactly where they left off.
Content update and redesigned mobile apps already set for release – In addition to the numerous technical and visual changes, Playa Games is also already hard at work on new content. Vigilant MMO fans will quickly notice the new Fortress icon and changes to the Backpack and Weapon Shop. Over the coming weeks, Playa Games will reveal the exact nature of these changes. Players using the iOS, Android and Windows Phone apps can also look forward to completely reprogrammed versions. Changes include optimized layouts, ensuring that Shakes & Fidget is displayed even better on individual end devices.
For more info, visit https://www.facebook.com/pages/Shakes-Fidget-The-Game/107431265996255
Next Article
A new story arc and alliance raid come in Final Fantasy XIV: Stormblood, Patch 4.1: The Legend Returns! The Royal City of Rabanastre awaits!
by Ragachak
Vainglory has announced today its plan to offer quarterly competitive eSports season, starting this October with the Autumn 2015 Season.
by MissyS
Pangya United is celebrating its third anniversary through April with several events for players to earn prizes and awards.
by MissyS