RWBY: Amity Arena Launches Today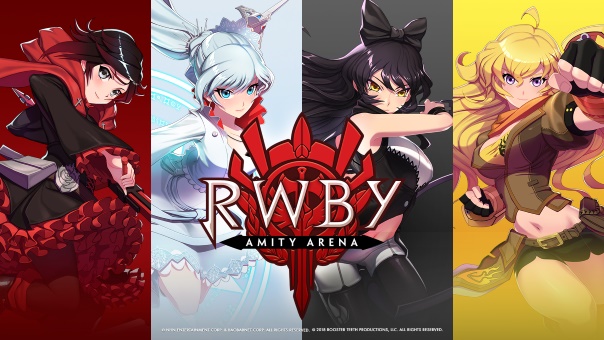 With the latest season of RWBY coming out in two days (October 27th), NHN is proud to release RWBY: Amity Arena today. Available on both Google Play and the iTunes App Store, this mobile game combines action and real-time strategy in the RWBY universe. Those who download the game in the first week will also receive special gifts, and a link can be found below. RWBY: Amity Arena is set just after Volume 2, as the Huntsmen and Huntresses prepare for REmnant's greatest contest. Choose from a roster of Volume 3's Vytal Festival Tournament hopefuls, with a few Grimm, Atlesian soldiers and White Fang thrown in for good measure. Customize and create new team combos never before seen in the arena: White Rose, Black Sun, Nuts and Dolts, Ladybug, and so many more!
"It's going to be a lot of fun to see new and recurring characters we've designed from the beginning of the show all the way to the current seasons and on make their way into RWBY: Amity Arena," said Kerry Shawcross, writer and director on RWBY. "RWBY fans are going to see the work we've done to make the next volume really special find its way into this living, breathing RWBY mobile
game."
Game Features:
–  Choose your favorite RWBY Character, and build a team around them! Work as a team with Pyrrha supporting Jaune's
slow march to the enemy Turrets. Or have Yang knock back enemy units into Blake's slashing blades!
–  Battle in Real-Time PVP! Test your team in a new casual mode where you can still win rewards without fear of losing your
trophies!
– Get a Character Preview with Skill TV! See what your newly unlocked characters can do, and test out a new strategy in the
sparring mode. Face off against a faceless Atlesian AI before you test your mettle against a real-life player!
–  Follow your Kingdom! Join an Academy! Gather your friends together to start an Academy! Exchange Cards and
characters to help your Academy mates improve their strategies. And don't forget to fight together in friendly matches for
bragging rights!
Next Article
New updates for PlanetSide 2 aim to get players deeper in the action.
by MissyS
You would be amazed at just how dirty video game consoles really are. Find out what research has to say about bacteria build-up on consoles.
by JFogerty
tinyBuild Games has just annoucned that their flagship title SpeedRunners has now sold more than 600,000 units on Steam Early Access.
by Mikedot