Runes of Magic Celebrates Their 10th Anniversary With a Huge Festival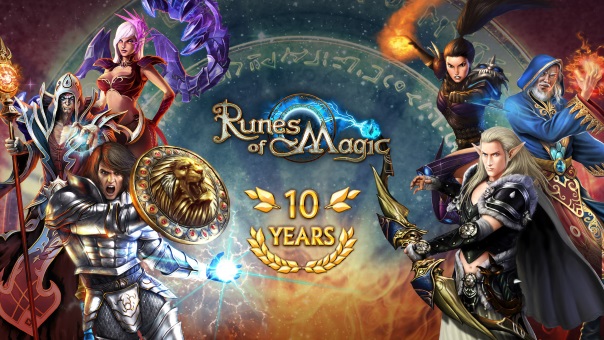 Gameforge is proud to announce the 10th anniversary of Runewaker's Free-to-Play MMORPG, Runes of Magic. The celebration started on March 10th and tons of events will run until the end of the month. Players who have accounts that are 10 years old will receive an exclusive package – the "Legend of Taborea" costume set, as thanks for a decade of adventuring. Those who have an account that is 7 years or older will receive the "Hero of Taborea" costume set to wear proudly.
The boosts and login events began back on March 10th and will run until March 19th. Players are also invited to join a special exchange event that will begin on March 22nd and last until March 31st. There will be plenty of festivities and events going on this month, which includes some special surprises we were not privy to. If you're a fan of Runes of Magic, don't miss out on the fun!
The highly anticipated latest chapter, Chapter VII: "Legacy of the Soulless," returns to "The Spirits of Despair" storyline that began in 6.4.0 and introduced the Shataem Archipelago — with four of its five islands: Tasuq, Korris, Enoch and Vortis, currently available — bursting with lore, challenging dungeons, and simply begging to be explored. There has never been a better to come back to Runes of Magic, or simply to try it for the first time.
"I'm extremely happy to see Runes of Magic hit this major milestone," said Belen Banos Trujillo, Associate Game Manager for Runes of Magic. "We're thrilled to celebrate not only the game's history but also the fantastic community that has formed over the years, which continues to enjoy the world of Taborea and are probably the most welcoming and helpful bunch you could hope for when returning or joining fresh! I'm really looking forward to another great 10 years of excitement, adventures, and more friendships to be forged!"
Next Article
ArenaNet has just released details about Stronghold, the all-new PvP game mode coming to Guild Wars 2: Heart of Thorns, the upcoming expansion...
by Mikedot
PAX East 2014 came and went but we have plenty of insider discussions with developers across the board of online gaming.
by DizzyPW
Fedeen Games is excited to usher in the new generation of strategy combat with Jungle Force, now available on iOS and Android!
by MissyS