Romance of the Three Kingdoms: Legend of Cao Cao: Gongsun Zan Update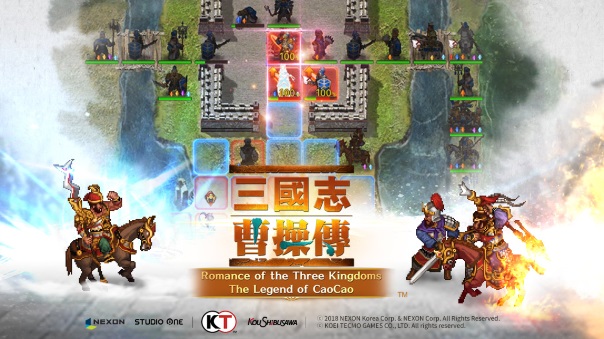 Nexon's Romance of the Three Kingdoms: Legend of Cao Cao mobile title is a mobile remake of the classic turn-based strategy game based on Cao Cao zi Mengde. There is new in-game content and events to herald the arrival of the "Gongsun Zan" update. In this update, players will take command of the White Horse General himself, Gongsun Zan and his elite cavalry across nine episodes, covering his most important battles. His focus was on defending the eastern and northern borders of the Han empire, and players who tackle this content will receive rare rewards. These include HP Accessory – Strong Chainmail (Normal difficulty) and 4* Accessory – Gongsun Zan's Yinam White Horse with Regular Terrain Move (Extreme difficulty).  This update also brings "Epic Battleground Mode", where players who have already unified their kingdom can conquer new lands, such as five neutral domains located on a variety of terrains. There's also a special in-game event to celebrate this update where players can receive items valued at more than $600 to kickstart this new campaign.
Empty Your Coffers Event:  Warlords who spend a significant amount of gold will receive:
 7★ Weapon Voucher x1;
 Permit Types x3;
 Archive x100;
  Artifact Piece x200;
  Jade Seal x7,000;
  Ration x2,800,000;
  Silver Coin x2,800,000
Quest Clear Event: Clear 'Quest' content 100, 200, and 300 times will obtain rare items.
Commander Promotion Event: Promote commanders to various levels and receive powerful rewards.
Total Annihilation Event: Participate in "Annihilation" mode 20 and 40 times to receive additional gifts
GungHo Online announced that starting today, an awesome collaboration has begun with the anime Sword Art Online in Puzzle & Dragons.
by Ragachak
Coming back after these years to the MMO variant has sparked my interest again.
by Proxzor
Snail Games is excited to present the closed Beta for Age of Wushu. The first realistic Martial Arts MMORPG to be released in North America, t...
by JamesBl0nde