Rogue Life Introduces Clan Raids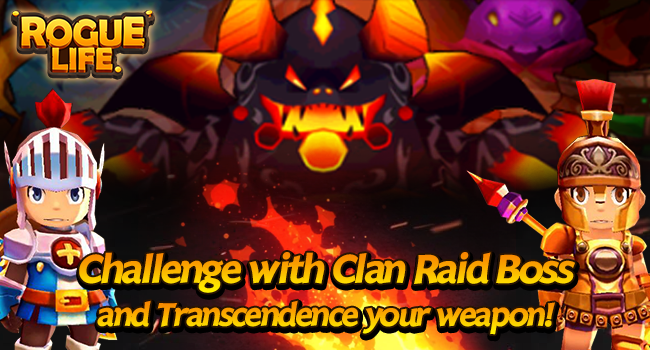 Clan Life's latest update introduces one of the most in-demand features, the Clan Raid. This allows players in the same guild to fight together against a boss for a ton of rewards. The update also introduces the Transcendence Weapon system, and Auto Battle on Fortress of the Deceased.
Clan Raid Boss
Players can challenge the Clan Raid Boss at Clan House. Gather your clan mates and group up to fight against the fiendish boss! Get the reward when your clan defeats the boss. The level of Raid Boss will increase every time it gets defeated. You can join Raid Boss 2 times per day (users may opt to use Gems to reset entrance cost.)
If your clan can beat the Raid Boss all members will get a Treasure Key. The last one person who dealt the killing blow on the boss will also get a Gem reward too. Each week there will be a summary ranking score and participants will earn a Gem reward based on their rank. Ranking will be separated into 3 categories.
Clan Raid Score Rank (Total score of all clan member)
Personal Raid Score Rank
Personal participants – Clan Raid (Total personal score)
Please take note that all rewards will be sent on every 5 a.m Monday (server time).
Transcendence Weapon
Unleash the maximum potential of your weapon by using transcendence. When you have a +9 5 star weapon you can transcendence it to 6 star by combining it with the required upgrade materials. After transcendence weapon appearance and effects will change too.
Next Article
Blowfish Studios will release their first-person shooter and world-building hybrid Gunscape for Xbox One, Windows, Mac & Linux on Septembe...
by MissyS
Runescape sets sail on the high seas today, as Pieces of Hate unlocks, concluding a 13-year old pirate quest series.
by Ragachak
Fire & Blood allows players to engage in the next evolution of dragon growth, while traveling across an all-new interactive map.
by MissyS