Rise of Immortals announces launch date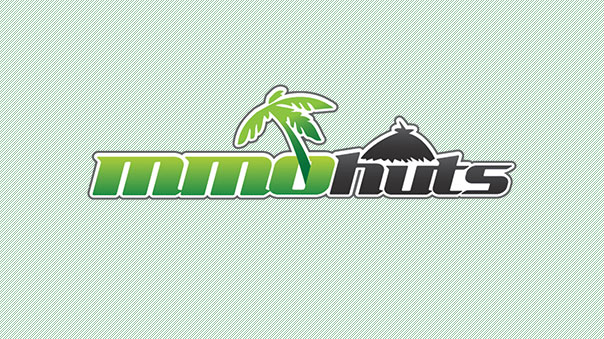 September 12 will mark the official commercial launch of Rise of Immortals, Petroglyph's free-to-play battle arena.
Players who join the open beta test before the date will still be able to earn two exclusive gifts: 1,000 Petroglyph Coins and the exclusive "King of Bling" Immortal Skin for Psychozen. The 3D Vision contest, giving away prize packages including a monitor, graphics card, and 3D Vision Glasses, has also been extended until the launch date, again giving any player who logs in or "Like"s the Rise of Immortals Facebook page a chance to win.
Rise of Immortals Gameplay Screenshot

Source:
PETROGLYPH® ANNOUNCES "RISE OF IMMORTALS"TM TO LAUNCH SEPTEMBER 12

Eagerly Anticipated Battle Arena Game Nearing Commercial Launch; Players Still have Time to Claim 1,000 Petroglyph Coins (worth over $10) and Exclusive Immortal Skin in Open Beta Test

LAS VEGAS, NV – September 1, 2011 – Petroglyph® today announced that its eagerly anticipated, free-to-play Multiplayer Online Battle Arena (MOBA) game,  Rise of Immortals™, will be commercially available Monday, September 12, 2011.

Rise of Immortals, an online PC game that expands on the hit MOBA genre with new, innovative features, is currently in the final phases of an open beta test. Players still have a chance to be part of the test and receive the exclusive gifts that testers will receive: 1,000 Petroglyph Coins at commercial launch (worth over $10), and an exclusive Immortal skin. The Immortal skin, a dazzling gold version of the robot-suited Psychozen, named "The King of Bling," will be available exclusively for open beta testers to enjoy both during the beta test, and as a complementary add-on to their account at launch.

Anyone interested in participating in the open beta test can register at  http://www.riseofimmortals.com, and will be immediately invited to download the game and start playing.

"The Rise of Immortals development team is a passionate group of battle arena fans, and we are all eagerly awaiting the game's official launch on September 12," said Steve Wetherill, executive producer of Rise of Immortals for Petroglyph. "Throughout the development process, we've worked internally and with our fans to create a MOBA game that adds all kinds of exciting new features to the genre, and we can't wait to open it up to the world."

In addition, Petroglyph also announced today that it is extending its online giveaway of two NVIDIA® 3D Vision™ prize packages, each valued at more than $650. The packages each include a 23″ 3D ready monitor, a Superclocked GeForce GTX 560 GPU, and 3D Vision glasses. Anyone wishing to enter the giveaway must register for Rise of Immortals, login to the game, and optionally "Like" the Rise of Immortals Facebook page (www.facebook.com/riseofimmortals), or follow the Rise of Immortals Twitter feed (www.twitter.com/riseofimmortals). The giveaway, original scheduled to end on September 2, has been extended until the Rise of Immortals release date of September 12. Details can be found in the official rules at:  http://www.riseofimmortals.com/events/3D_Vision_Giveaway.

Rise of Immortals is a free-to-play, micro-transaction-based online game that will be available via direct download. The game features the popular action-strategy gameplay of traditional MOBA games, but adds enhanced socialization features, along with persistent character progression – a first for the MOBA genre. In addition, Rise of Immortals features a social hub where players can show off their enhanced Immortals, chat, emote, browse leaderboards, shop, manage friend and guild lists and more. Players also have the option of taking their Immortals through cooperative Player versus Environment (PvE) scenarios to learn the game, try out new abilities, and earn persistent experience before jumping into Player versus Player (PvP) matches online.

Features of Rise of Immortals:

·      Free-to-play
·      12 unique Immortals at launch with additional Immortals released on a regular basis
·      Persistent per-Immortal level progression and skill trees
·      Persistent artifacts for stat enhancements
·      Player versus Environment instances with collectable items
·      Player versus Player instances with up to 5v5 multiplayer
·      Persistent experience and leveling in both PvP and PvE instances
·      Account and Immortal statistics tracking
·      Player hub instances for socialization
·      Collectible pets for combat and vanity (post-launch feature)

Links:

·      Rise of Immortals Website:  http://www.riseofimmortals.com
·      RoI on Facebook:  http://www.facebook.com/riseofimmortals
·      RoI on Twitter:  http://www.twitter.com/riseofimmortals
·      RoI on Flickr:  http://www.flickr.com/riseofimmortals
·      RoI on YouTube:  http://www.youtube.com/riseofimmortals
Next Article
WEBZEN announced the official release of "The Lost Temple", expansion 3.2 of its triple-action hack 'n' slash MMORPG ELOA.
by MissyS
This time, the theme of the beta event is "Blood & Bounty" and as such, I've decided to throw together a bit of a guide on ...
by DizzyPW
Final Fantasy XIV's 4.3 update, 'Under the Moonlight' will be going live late this May, and with it comes Ridorana Lighthouse.
by Ragachak