Razer Nommo Chroma Review (Hardware Review: Speakers)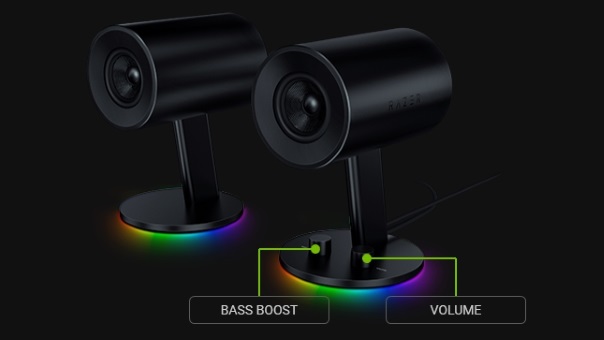 This is an interesting thing to review because I haven't used speakers on my PC in such a very long time. As someone who suffers from hearing loss in one ear, I tend to use headphones, because I can keep my volume at a decent level for me to hear, without making everyone around me suffer whatever I happen to be watching at the time. It's with that in mind that I have been avoiding using speakers because they never seemed to be quite clear enough without jacking the volume to some incredible, insane level and making everyone disappointed in me/my taste in music. That has not been the case with the Razer Nommo Chroma speakers, which Razer provided me with for this review. These have been the clearest, most easy-to-hear speakers I've had the pleasure of listening to. They are, unfortunately, not a be-all-end-all solution for me, but that's not the fault of the speakers, that's the fault of me not having a 500-1000 dollar microphone. I still have to use headphones when I'm streaming, but in every other situation, they stand out.
The Razer Nommo Chroma feature Glass Fiber, Custom Woven 3-inch Drivers that offer clear, beautiful sound. Now, one of the downsides to this is that the speakers are absolutely bloody massive. I don't have a lot of desk space, so I had to get kind of creative (RE: I had to tuck them behind my monitors) but when I get a bigger desk, they'll be aimed right at me, and it will be wonderful. I spent the weekend testing them under an array of conditions, and a variety of audio types, from FLAC tracks on Winamp, to video games, to video game streams, anime, and professional wrestling. I have never been so happy to listen to speakers in the whole of my life. The Bass on these speakers also automatically adjusts the gain, so I've yet to hear any distortion on even the hardest of tracks.
It's also important to note that, in addition to the USB connectivity, it also includes a 3.5mm headphone jack, so while you can't hook your phone up to them via Bluetooth that I found, you can simply run a cable from your phone to your speakers, and if you want to be the life of the party ™, you certainly be! The Nommo Chroma, as their name implies, also offers Chroma lighting in the base of the speakers, which can be adjusted in the Synapse app. It's also important to note that if your speakers are far out of your reach (like mine are), and you don't want to fiddle with other PC settings, you can adjust your sound archetypes, volume, etc, all in the Razer app. The Pro version of the Nommo also have additional Drivers for even better audio and a subwoofer, but I'm reviewing the basic version. If I were using this desk, with just one monitor, these would be perfect. As someone who uses two though – I had to do some clever adjusting, and I miss out on the cool colors. But I still get the wonderful sound, and that's what matters!
The Nommo Chroma are supposed to be engineered for gaming, to keep a true stereo experience, so that was my first stop. I was told they would let me hear distinct layers, and audio details, so I started with the game I probably play the most often (outside of Magic) that needs audio details: SMITE. One thing I learned is that I had to readjust my audio settings. The notification for my Arena match almost knocked me out of my chair and physically rattled my teeth. While these speakers are no substitute for two working ears, I had a very easy time picking up little audio queues, from the sound of a ward being dropped, while Kukulkan dropped his ultimate, and someone spammed VGS notifications on me. So this was really the perfect place to start. There's always so many sounds going on at once in SMITE, that if I can hear it clearly, surely the average listener can.
Satisfaction Guaranteed: 4/5
Whether I was watching the "Angry Video Game Nerd", SchalaKitty's Final Fantasy IV: Free Enterprise beta test stream, or New Japan Pro Wrestling's World Tag League, my audio was clean, easy to hear, and even the little details were clear for me, without the hassle of having to wear a headset and turn everything down to 1, just so I'm not overwhelmed by how loud some things are. When I idled in Final Fantasy XIV, I could hear the babbling of a brook, and the constant giggling of other players. When I played Warlord's Awakening, I could hear that annoying, horrific cackling of goblins, while also listening to other parts of the audio track. If I were to get a much more expensive microphone and use a different room in my home, I could probably just do away with headphones forever. But that's simply not an option right now.
There's another great use for these speakers for me though. I play most of my consoles through a Capture Card (AVerMedia Live Gamer ULTRA), so I can record video and audio footage much easier, and I don't have to leave my home office to do so. This means I had to listen through headphones for hours at a time and could make chronic headaches/migraines much worse. Now, I also use both OBS Studio and Streamlabs OBS on my PC for various reasons. They both make certain things much easier. It's important to note, for people who use a setup like mine, that Streamlabs OBS will not let me run audio through my speakers via capture card, but OBS Studio definitely did. It brought the PS4, XB1, and Switch audio to life. Now when I spend an entire afternoon playing Yakuza, I can do so in comfort, and if I'm having a bad pain day, it's not amplified by all the work I tend to need to get done. They're loud, without being overbearing, and I can hear them as clear as day. The Razer Nommo Chroma is a perfect Christmas/Hannukah gift for that special someone in your life – whether it's you or someone else! And any product that features a 3.5 mm jack can use these – even a TV! They're wonderful, though a little on the large side, they have made a believer out of me. For speakers in the 100 dollar price range, they're more than worth it.
Razer Nommo Chroma Speakers were provided for the purpose of this review.
NCSoft is partnering with MMOHut for some upcoming events beginning in May in Lineage II.
by MissyS
A few weeks back, I got a chance to see the changes coming to ArcheAge for update 4.5, and there's some really big stuff on the way!
by Ragachak