Rastakhan's Rumble is Now Live in Hearthstone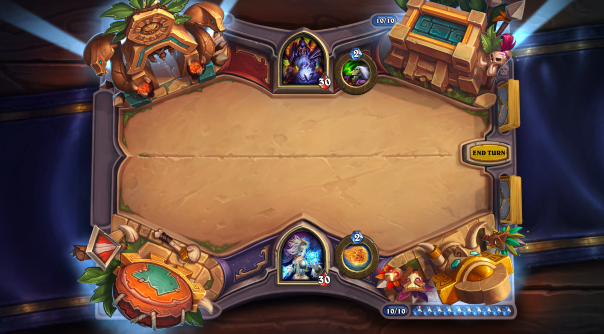 It's time for fans to pack into the Gurubashi Arena in Hearthstone – Rastakhan's Rumble is now live for all players. It features 135 new cards and an arsenal of new mechanics. The trolls of Azeroth have gathered at the behest of their leader, King Rastakhan, for a once-per-generation, no-holds-barred throwdown. Nine teams have formed, led by some of the most fearsome fighters of trollkind—nine Legendary Troll Champions, each representing a Hearthstone class. Combatants will enjoy the blessings of their team's Loa, ancient spirits venerated by the trolls that have manifested themselves as Legendary minions. Players looking to dive deeper into the magic of the trolls can call forth Spirits—unique class-specific minions that share impressive synergies with the Loa. Those more inclined to thrilling the crowd with sheer brutality can do so with Overkill cards—a new gameplay mechanic that rewards players with powerful effects when they deal excess damage.
On December 13th, the Rumble Run will also begin. This is an action-packed, single-player Hearthstone experience where players enter the arena as Rikkar (an up-and-coming troll gladiator), who learns valuable fighting techniques and befriends powerful allies on his way to being Azeroth's mightiest troll. Further details about this mode will be announced soon. In addition, this Wednesday (December 5th, 2018) at 9 am PST, the new set will get its first competitive debut as pro players and influencers clash in the Rastakhan's Rumble Inn-vitational. further details can be found in the link below.
"We're excited to have Hearthstone players around the world step into the ring today to test their might in Rastakhan's Rumble," said J. Allen Brack, president of Blizzard Entertainment. "The Gurubashi Arena has seen countless fights over the years, but nothing like what's about to unfold—we can't wait to see the fiercely creative decks players bring to the battlefield."
For a limited time, players who log in to Hearthstone will receive six free Rastakhan's Rumble card packs, as well as three cards to kick-start new deck-building ideas: a random Legendary Loa minion and two copies of a rare Spirit minion from the same class as their Loa.
Worlds of Magic, by Lucid Dreamers Development, seeks to recreate that classic 4X (Explore, Expand, Exploit, Exterminate) feeling, combining t...
by DizzyPW
MMOHut gets some hands on time with Edge of Reality's new F2P shooter Loadout
by Guest
Today's Smite Patch Note Preview on Twitch revealed the details for update 2.17, Shadows of Olympus.
by MissyS