QubeTown's Latest Update Brings New Stack-Up Mini-Game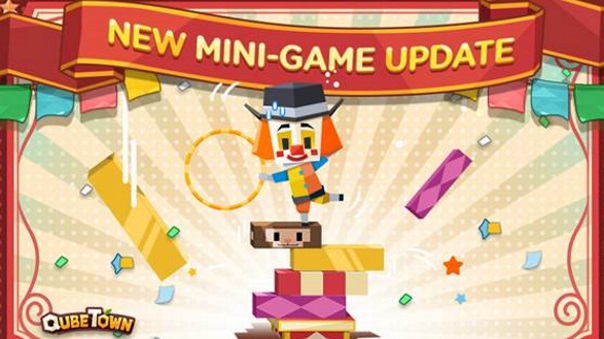 QubeTown has a new update arriving today which brings a new Stack-Up mini-game and much more. Players will be given randomly sized blocks that move left and right. They need to stack each block as high as possible, and the Stack-Up event will allow players to compete, which is hosted by the Circus. This can reward special landscape items, Ruby, Gold and so much more. While playing Stack-Up, several items such as Hourglass, Clover 2x and Life will be available to help players to reach a higher score. The mini-event will run for a week, beginning today (March 23rd) until April 1st, 2019.
QubeTown will also continue to hold in-game events like this every month. The upcoming Musical Festival Event will bring new types of products such as 'Magical Shoes', 'Cloak of Invisibility' and 'Wizard's Hat'. Each product requires a different amount of materials to produce. In addition, there will be event-related stories, new missions, and special rewards. The latest update also features 3 different themed town skins. Users can give their town a different look by applying the new skins to their castle, warehouse, houses, Inn and more.
After passing 300 million downloads in July 2013, leading mobile games publisher GAMEVIL has now surpassed 400 million mobile game downloads. ...
by Mikedot
NGames, a leading online games publisher, is thrilled to announce that the open beta test for new free-to-play action MMORPG, Sword Saga, is a...
by Mikedot
So let's get straight to it, why can Dropzone succeed in this non-existent market?
by DizzyPW