Puzzle & Dragons Brings Monster Hunter Back for a New Collaboration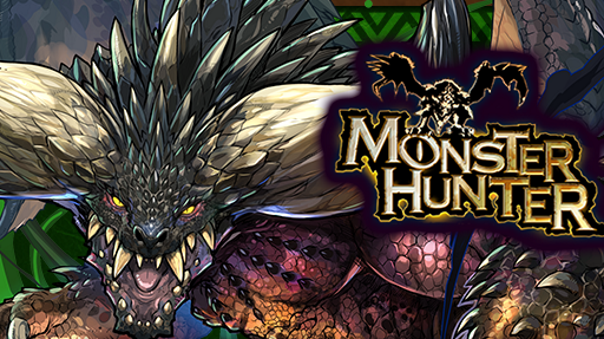 GungHo is proud to announce that a fan-favorite collaboration is back with some all-new creatures: Puzzle & Dragons x Monster Hunter! The latest Monster Hunter collaboration will last from April 22nd until May 5th, 2019, and players can sally forth to take on the beasts of the Monster Hunter series. They can also unlock materials from their hunts to craft gear. There are new monsters, evolutions, and rewards in this event, such as Male Hunters being able to earn the all-new Auroros Gear.
Female Hunters aren't left out, as they can unlock the Glyph Gear, all in pursuit of Yama Tsukami, Akantor, and more. Players will receive a pull of the Monster Hunter Memorial Egg Machine for logging in, and there will also be a selection of bundles available. These include 2 Magic Stones + Monster Hunter Egg Machine, 30 Magic Stones + ★7 Monster Hunter Egg Machine, and 15 Magic Stones + Monster Hunter Seregios Egg Machine.
Additional details on the collaboration include:
10 Magic Stone Monster Hunter Egg Machine:
★7
Black Dragon, Fatalis (NEW)
Yama Tsukami (NEW)
Akantor (NEW)
Amatsu
Massacre Demon Diablos
Thunderlord Zinogre
Nergigante
 ★6
Gore Magala (NEW)
Seregios (NEW)
Rathalos
Kirin
Glavenus
Mizutsune
Legiana
Valphalk (also known as Valstrax)
Brachydios
 ★5
Rathian
Tigrex
Nargacuga
Gammoth
Astalos
Barioth
Paolumu
New Assist Evolutions:
Fatalis Blade
Ancient Dragonwood Cannon
Akantor Mutilator
Ächtungsblick
Sedition Splitter
 NEW Ultimate Evolutions:
Male Hunter, Auroros Gear
Female Hunter, Glyph Gear
 Monster Exchange Monsters:
Male Hunter, Zeus – Giga Gear
Female Hunter, Valkyrie – Ciel Gear
Next Article
Kabam, a world leader in free-to-play games for traditional players, today announced that it has partnered with Lionsgate (NYSE: LGF), the pre...
by Mikedot
Perfect World Entertainment's "Season of Dragons" continues with a brand new trailer showcasing the potent new class coming to Neverwint...
by Mikedot