Puzzle & Dragons Announces New Final Fantasy Collaboration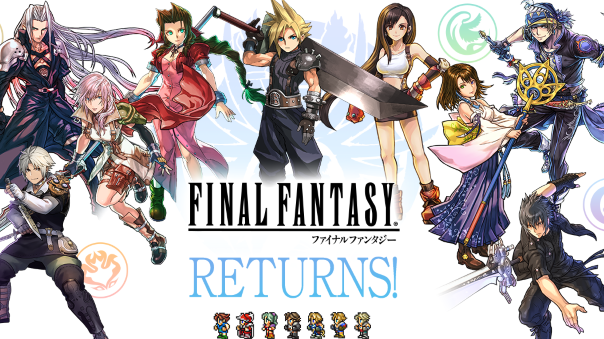 Gungho Online Entertainment revealed that the Final Fantasy franchise has returned to Puzzle & Dragons, which adds some new characters such as Thancred and Aerith. Fan-favorite characters will also be returning, such as Cloud and Sephiroth, with Final Fantasy XII's mighty Yiazmat showing up at the end of a 3-Player Multiplayer Dungeon. Returning dungeons will also have a "4 players or less" floors, and will give players a shot at earning a Pixelit. Pixelit is an Evo Material that can be used to transform certain Final Fantasy characters into their pixel forms via Pixel Evolution. This event will run from August 8th until August 18th and will feature new characters as well as some returning favorites.
The historic bosses players encounter in Final Fantasy and Final Fantasy 2 dungeons can drop collaboration-exclusive medals, which can be collected and exchanged for FINAL FANTASY VI's very own Locke in the Monster Exchange. Glauca from Final Fantasy XV will be available in the MP Shop during the collaboration. Two new Gift Dungeons will also be available for one week each. The first, Fat Chocobo™'s, will reward players with a Fat Chocobo for completion and will run from August 5 through August 11. Starting August 12, Gift from Moogle's Gift Dungeon will be made available, giving players a shot at a Moogle until August 18. As always, players will receive a free pull from the Final Fantasy Memorial Egg Machine.
FINAL FANTASY Egg Machine:
★6
Aerith (NEW!)

Cloud

Sephiroth

Yuna

Cecil

Lightning

Tifa

Noctis

Balthier
★5
Thancred (NEW!)

Squall

Rinoa

Zidane

Tidus

Bartz

Terra

Shantotto

Vaan

Y'shtola

Onion Knight

Yda

Prompto
★4
Vivi

Ace

Aemo

Wol

Rain

Auron

Penelo

Reynn & Lann
RuneScape and Old School RuneScape today kicked off four months of exclusive goodies for Twitch Prime Members.
by MissyS
OnRPG and MMOHut recap their day three experiences at E3 2012.
by DizzyPW
Dragon Nest provides an enjoyable experience with fast-paced gameplay that many other action MORPGs barely come close to reaching.
by Mikedot