Plarium Partners To Bring Alien versus Predator to Soldiers, Inc.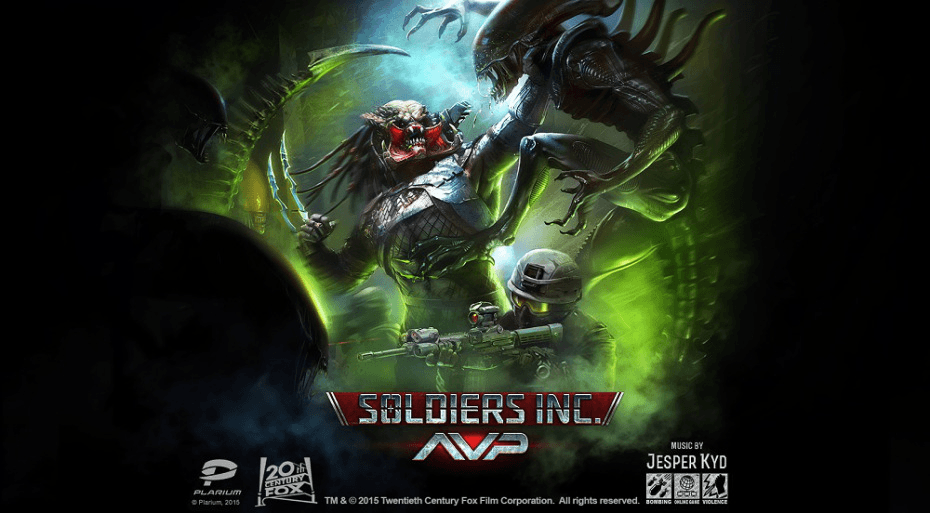 Plarium, a leading social and mobile game developer with over 150 million users, today announced a partnership with Twentieth Century Fox for the rights to their franchise Alien vs. Predator (AVP) – a crossover of two iconic blockbusters of their own – Alien (1979) and Predator (1987). The partnership will lend the themes and experiences from AVP into Plarium's hit Facebook game, Soldiers, Inc.
Launched in August of 2013, Soldiers, Inc. has been coined one of the "best new games of the year" by Facebook and remains one of Plarium's most popular titles with 85 million total players. The Massively Multiplayer Online (MMO) strategy game is set in 2019 in the fictional realm of Zandia where foreign powers, multinational companies and underground criminal organizations are all fighting to locate rare minerals in a starving and depleting state.
"Soldiers, Inc. has the perfect mixture of thrilling and engaging gameplay that is perfectly in step with the Alien vs. Predator franchise", said Mike Doyle, VP of Interactive Games at Twentieth Century Fox Consumer Products. "We look forward to bringing fans the ability to immerse themselves in a game experience that incorporates the franchise's high-octane excitement and takes it to another level."
The Alien vs. Predator film franchise exists across two films, Alien vs. Predator (2004) and Alien vs. Predator: Requiem (2007). The AVP campaign within Soldiers, Inc. will be fully voiced and is an entirely separate experience from the original game where players must investigate a temple of unknown origin and extract assets before a thermonuclear detonation. Features will include a multi-mission story arc, a series of global missions, side missions, special reward units, collectable in-game items and boosts themed around the 'Alien vs. Predator' experience.
"Plarium is thrilled to work with Twentieth Century Fox to bring such an iconic franchise to social gaming", said Leonard Frankel, Head of Business Development for Plarium. "This exciting partnership aligns with Plarium's overall vision to bring the most engaging experience to our audience by enhancing every minute that players spend with us."
Little Orbit has been expanding its repertoire of games, most recently announcing a partnership with Descendent Studios.
by Ragachak
AxE: Alliance vs. Empire released a new update today that offers a new PVP mode, new companions, and so much more to the game.
by Ragachak
InQuake Softworks, the independent development studio, is pleased to announce the Pre-Alpha of Warhold.
by MissyS