Phantasy Star Online 2 New Genesis Releases Frozen Resolution Update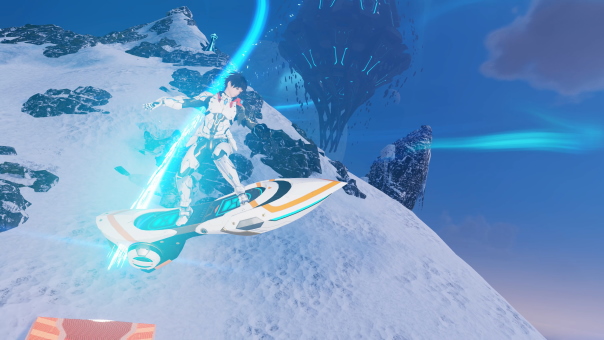 via press release
SEGA today announced that Frozen Resolution, the largest content update for Phantasy Star Online 2 New Genesis since its launch one year ago, is now live. Today's update raises the level cap to 60, unveils a new region, continues the main storyline, and introduces a slew of new weapons, enemies, and activities.
In Kvaris region, protagonist was requested by Crawford to repair the central cannon and to confirm the safety of a researcher named "Ilma" who has information necessary for further refurbishment. The Kvaris region has sweeping fields of snow as far as the eye can see and enormous mountains. The ecosystem of Kvaris boasts a variety of new creatures for players to encounter across the region.
New Actions
Two new actions will be unlocked today to help players traverse Kvaris – "Throw Action" and "Floating Boards". "Throw Action" temporarily changes player's attacks so they can pick up items and throw them at enemies and containers, dealing tons of damage. Players can get around Kvaris faster than ever with "Floating Boards"!
Multiplayer Competitions
With this update, players will have a new way to enjoy the open field casually alone or with others. Multiple players can compete against each other in races, and solo players can play a time attack mode and try to break their fastest record.
New Weapons & Items
The Kvaris region comes with a new 6-star weapon series, the Sechetyl Series and the Evoleclipse series. In addition to buffing regular Potency, the Sechetyl Series provides extra Potency against non-boss enemies. The Evoleclipse series is also very powerful; players will get increased Potency as well as Natural PP recovery after a successful sidestep dodge. Players can use Kvaris Expedition Prep Tickets to upgrade their gear.
New Enemies
The new boss enemy, Crocodylis, throws an exploding object at you. Using the Throw Action, players can fight by throwing his bomb right back at him! Proctys Ael and Proctys Retem are new enemies that use a variety of attacks from DOLLS from other regions. Some boss enemies in Kvaris buff up all nearby DOLLS when they appear, making mob attacks even more challenging. Players might even get a surprise visit from the iconic Waulon!
Rayjord Gorge
Beware of Rayjord Gorge! This tough Exploration Sector's freezing temperature will damage players over time. To keep your energy up, you can strengthen your resistance to this damage with boost effects from Region Mags, Quick Food buffs from Kvaris gathering items, as well as boost items from NPCs and drops. There are also new Augments that boost resistance to the low temperature damage as players defeat enemies in the Sector.
Getting to Kvaris
For players to embark on their Kvaris adventure, they will need to complete Retem's main story, "A Happy Ending". Enemies in Kvaris are at least level 37, so players need to be above level 33 with a Battle Power of 1813 or higher. To make it easier for players who took a break after completing the story in Retem, there are Tasks that will allow them to gain more EXP before they head to Kvaris. In addition, there will be more than 50 Side Tasks available in Kvaris to aid in leveling up. Players will want to get their character ready and buffed up the first week after Kvaris releases, because an extremely powerful enemy will be waiting for you in the depths of Rayjord Gorge.
To read more about Frozen Resolution and learn tips and tricks, read Hiro Arai's interview with the NGS Team.
You can learn more about today's update in the most recent NGS Headline.
Next Article
The game is set in the fantasy world of Eremos, where the mysterious Felspire continues to be a source of contention.
by MissyS
Nexon America has announced that several of its free-to-play MMOs will be available on Steam.
by MissyS
Today's update to Shards of War expands the battlefield and brings new acoustic dimensions to each fight.
by MissyS