PAX West 2016 Day Three Recap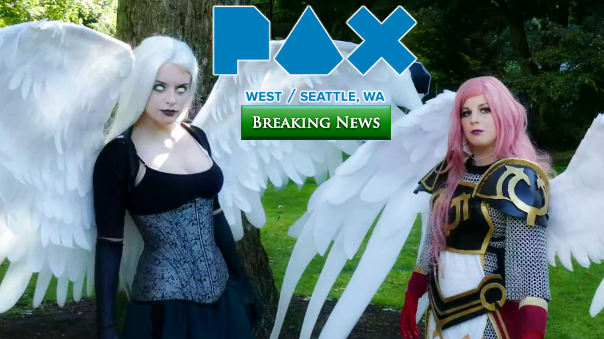 I really didn't do all that much on day three – mostly photograph taking and letting DizzyPW do some work! Most of the stuff we saw today is under an embargo, but it was all quite fun! I can't think of anything that I really didn't enjoy to be absolutely honest. While it was a bit crowded, and I actually got physically pushed out of the Indie Megabooth when I was trying to visit the Obduction booth [really, I twisted my ankle under a horde of really obnoxious, ill-bathed people]. Today was the great Sea of Armpits; everyone was taller than me and in closed areas it was borderline claustrophobic. I couldn't breathe and it was quite vexing. Other than that particular moment I had a blast, and while the running and walking is exhausting physically, there's a bit of a rush, an adrenaline boost when you get to the press areas, and knowing you did your job to the best of your ability. I didn't go to PAX East this year so I didn't get my brief training/reminder of how taxing it is.
Table of Contents
Miss our previous coverage? Check out what we saw on Day One and Day Two!
Next Article
Today City State Entertainment ended the full month long backstory behind the Silverhand race's origins for Sandbox realm warfare MMORPG,...
by DizzyPW
A new MMORPG by R2Games is now live and ready to play! League of Angels is a hybrid turn-based fantasy MMORPG/strategy game. Combining aspects...
by Mikedot
Wargaming has announced the winners of their International Ural Steel Championship 2012 finals, which were held in Moscow on September 16.
by MissyS