PAX South (Texas) Day 1 Recap: Gigantic, PoxNora, and Cabal II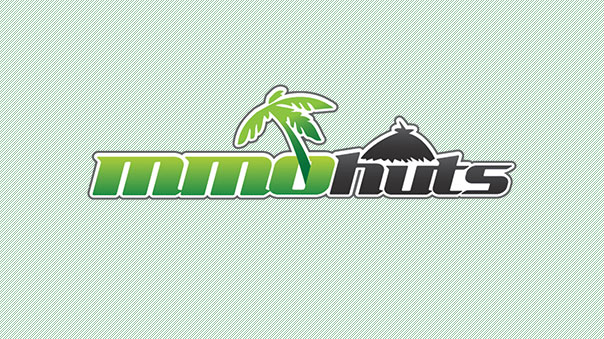 By Jaime Skelton (MissyS) and Andrew Skelton
The first day of a convention is always exciting, but the first day of a first time convention is even more so. Even though PAX has been going on strong for many years now, this is the first year for PAX South, held in downtown San Antonio, Texas. Though the day was blustery outside, the halls were packed with gamers, geeks, and fans eager to help the convention kick off. While we took the first day a little light to make connections and scout the floor, we did have the opportunity to sit with the representatives for Gigantic, Cabal II, and PoxNora.
Gigantic
While it may seem like the illegitimate love child of SMITE and Shadow of the Colossus, the best way to understand Gigantic is to see it in action. Motiga brought several staff members, and even special coaches selected from alpha testers flown in especially for the event. Since everyone on hand was familiar with the game, we then started the hands on experience, where the coaches gave us individual advice about most of the fourteen available characters, detailing their strengths, weaknesses, and abilities. Both teams faced off in the 5v5 format, and along the way, spent time learning about summoning creatures, holding strategic locations, and the best ways, times, and uses for pushing with your Ancient.
We picked up a ranged class and got great coaching before heading into battle, and adapted quickly to the gameplay. While we managed to die a few times by accident (who knew cliffs were so dangerous?) we were able to help pick off the opposing team's healers a few times. Even though our team was stacked against a more traditional build of tank, support, and stealth, we managed to win in an epic battle where the defending team guarded the weak area of its titan from attackers.
Even in an alpha stage, the game felt very polished and quite engaging. While quite easy to get into and play, there are levels of strategy that go far beyond most games in the genre. Motiga has definitely put the focus on teamwork here, and even the same character on the team can be completely different with the branching skill paths the characters all have. While not everything was available to test out in the limited time available, Gigantic is already shaping up to be highly anticipated and well worth waiting for
Cabal 2
There's been a lot of anticipation for Cabal II, ESTSoft's follow up to its hit classic MMORPG. After our play session with the game we're seeing why so many of you are hyped. So far, we're pretty sure you won't be disappointed.
We sat down with the team and hopped in game as a Warrior, one of Cabal II's six classes. The Warrior straddles the line between damage and defense, and has a selection of damage, AoE, knockdown, and buff skills. The game's combat system is action-based, putting a heavy emphasis on the knowledge and use of skill combos. Some skills act as chain combos, where the same skill can be used multiple times to do an increasingly stronger amount of damage. Other skills are reactionary, such as our warrior's powerful damaging ability useable after an enemy had been knocked down. This makes every fight engaging, and we were told that knowing these combos are essential for success in later levels, especially dungeons.
In fact, we got our own taste of one of the dungeons in Cabal II, the Heavenly Citadel. This dungeon is a collection of platforms, each of which acts as a home to a different boss. Players destroy a pillar to summon a boss, which spawns a portal on its defeat. This portal will lead to a random boss each time, making every run of this dungeon random and unpredictable. These fights are intense, requiring each player to use their skills and combos efficiently. While combat is not as dodge-heavy as some MMOs (here's looking at you, Guild Wars 2), movement is still important and players are equipped with a dash skill on a short cooldown to aid them in slipping in and out of battle.
It's also important to note that while Cabal II has six classes, all six are key members of a party. Each class brings something different to the encounter, making a balanced group highly desirable. For instance, Force Archers are the only class capable of reducing the rage boost that bosses gain which makes them incrementally more difficult as a fight goes on. However, we're also reassured that groups won't simply want to take along four archers along with their tank and healer, as stacking one class too heavily causes the group to lose out on the valuable abilities that other classes bring. This should make all classes equally desirable, a problem that many group-based MMOs face.
Heavenly Dungeon is not the only end-game dungeon. There are also instance portals that spawn in the game's open areas. Some of these will teleport the player into a small mini-instance to do battle, while others will spawn the enemies in the open world when activated. We also briefly talked about crafting, being told that there is a crafting island where players can work their trades (primary plus a related gathering skill), somewhat similar to Star Wars: The Old Republic except that players will do their own work rather than hiring lackeys.
Though we were on a guided tour and saw only a tiny portion of the world plus Heavenly Citadel, we were very impressed by what we saw. The game is certainly polished and tested, and it's clear that the wait we've had while the team has worked on optimizing the game for the West is going to make this title very worth checking out when it hits beta.
Pox Nora
For a game that's been around almost nine years, Pox Nora is still somewhat a black sheep amongst MMOs. As the CEO explained (and we happen to agree with), there's nothing else quite like it. The mix of strategy, CCG, and miniature collection is still hard to categorize. It's also strange to realize many of the innovations and designs in MMOs we see now, PoxNora has been doing since 2006, leading the way in tactical, free to play MMOs, card gaming, and even direct customer support and outreach.
Pox Nora released their latest expansion on January 20, and we got a chance to learn what it was all about. Foremost is the new tutorial system designed with new players in mind. Pox Nora is, by design, a difficult game, so adding a tutorial was a great step to aid people new to the game. New runes and abilities were also added, and as with every other expansion that has been released, everything available is useable with all other aspects of the game. The team believes strongly in their community as well, with all of them involved in answering questions, allaying concerns, and fostering a relationship that's increasingly important to players these days – and they've been doing this from the beginning.
What's Coming Next
Day two's event line-up for the team includes a mega Guild Wars 2 panel, Vainglory, and a visit with tinyBuild, but there will certainly be many surprises in store. Stay tuned for more news straight from the heart of Texas!
Plarium, one of the world's fastest growing developers of social and mobile games, has announced the worldwide release of the massively mult...
by MissyS
Webzen announced today that MU Online will open a new Speed Event server on October 4.
by MissyS