Paladins Latest Update, 'Steel Forged' Arrives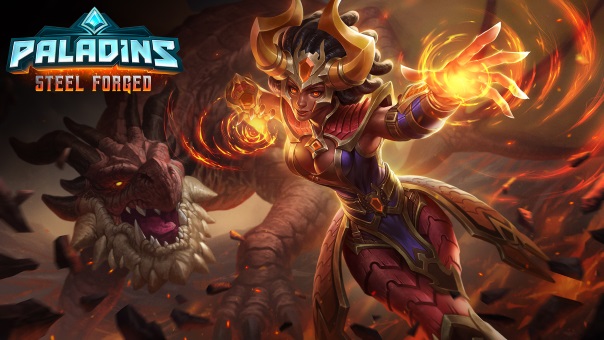 Steel Forged is the latest update to come to Paladins, and it comes with a host of new content for their players. There's a new lore-driven map in the marquee Siege Mode, known as Bazaar. The Paladins and Magistrate's conflict has spilled out into the streets of this bazaar, and this bright, flourishing village is about to be flooded with conflict. Players can adventure through the hidden market and learn more about the ancient lunar goddess and her followers, as you explore this map. The importance of the moon, foxes, and a mysterious deity-like statue can be seen in this map.
The vibrant market offers players a unique new gameplay mechanic in the Realm: Gates. Create game-winning strategies with new team-based gates that only open for the correct team,
allowing for quick retreats and strong flanking opportunities. But quick and mobile enemies can also take advantage of the open gates, should you be lax. A new Battle Pass also comes in this update, the Steel Forged Battle Pass. Over 100 great treasures await in this epic fantasy-themed Battle Pass. Set out on an adventurous quest with new skins for Androxus, Imani, Mal'Damba and Barik. Players can unlock Steel Forged Androxus, the Dragon's Keep Animated Loading Frame, and an exclusive Dragon Forged Avatar instantly when they purchase the Steel Forged Battle Pass.
They then earn up to three Champion Skins at levels 10, 40, and 50, just for playing Paladins. With every level, players will continue to get new rewards, including Death Stamps, Sprays, and Emotes. For those who complete the Battle Pass, there is a Plus Track that rewards players with an alternate skin color of each skin in the main Battle Pass.
Markus Kruber is a deadly but war weary Empire Soldier.
by DizzyPW
ESL, the world's largest, independent eSports brand, is proud to announce their next groundbreaking Dota 2 tournament will be held in The...
by Mikedot
Today, I'm going to talk about the worst decisions/choices made in online gaming in the Year of Our Lord 2017.
by Ragachak