Open World Pirate RPG Tempest Launches on Mobile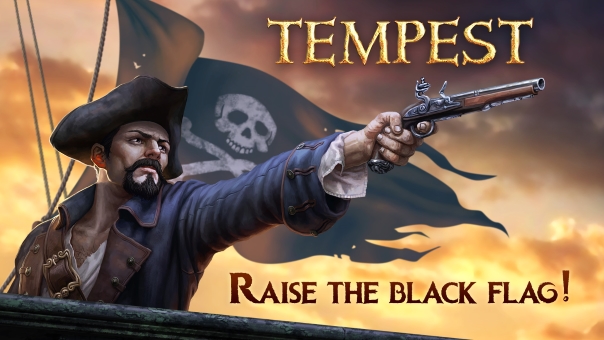 HeroCraft are thrilled to announce that a new open world action RPG game in the pirate setting, Tempest, is now available on for iOS and Android systems.
Ropes away, sea-dogs, for a new adventure awaits you! The sun is high on the sky and the wind is strong. You have no country but your ship, no family but your crew, no lord but your own freedom. The sea is waiting for you to explore its hidden depths, uncover its secrets and plunder its treasures – and now you will be able to do so on mobile platforms too! HeroCraft is proud to announce that Tempest, the open world action pirate RPG, is now available for iOS and Android systems, for $7,99. Tempest was conceived and created by one person, Andrey Babak aka Avreliy, who is also the developer of Cubium and FootLOL: Crazy Football. HeroCraft have been fruitfully cooperating with Andrey for a long time.
Focusing primarily on the most exciting elements of being a pirate – captaining your own ship and engaging in intense sea battles – the world of Tempest is set across three vast open world regions for you to discover. You will be able to create, customize and upgrade your sea vessel with different weapons such as cannons, mortars and flamethrowers; and then use it to plunder treasure-laden merchant ships, go cannon-to-cannon with enemy galleons, and storm land based fortresses with your crew. Hire your crew and level them up by completing quests and missions to create the most fearsome cutthroats on the high seas and then use them to board and capture other vessels.
But you won't face only earthly challenges and opponents, nor all your weapons will be made of steel: sinister disciples of a mysterious cult and fearsome mythical creatures will provide completely different challenges on your travels across the oceans; discover and unleash powerful artifacts such as mystical crystals to escape the enemy's cannonballs, bring down meteorites from the heavens on to your rivals or summon a giant octopus to your aid!
Tempest was first released for PC and Mac on August 22nd 2016, and since then more than 50,000 of sea-dogs have explored the oceans with HeroCraft's pirate RPG and enjoyed its freedom: you can play solo with over 100 single-player quests, cooperate or compete in co-op and PvP multiplayer modes and choose how ruthless and cut-throat a pirate you want to be! This new version brings the exciting pirate world of Tempest to mobile platforms (both smartphones and tablets) – now you can be the most feared pirate in the world wherever you want!
Next Article
Paradox is happy to announce that Crusader Kings II: Conclave will be available on February 2, 2016.
by MissyS
Aeria Games has provided more information on the variety of PvP modes DK Online will have to offer, and how the various classes perform their ...
by MissyS
Warframe has released a new teaser site for Echoes of the Sentient, a new update coming to Warframe's PC version soon.
by MissyS