Nosgoth Closed Beta Preview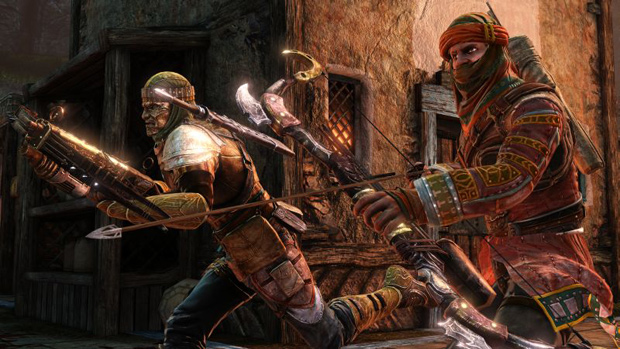 Back in January, our very own Mikedot took an early peak at the Nosgoth alpha. This time around, I will be taking an updated look at the game during its closed beta testing, letting you in on any improvements or changes I come across. Of course, I'll be including my own opinions as well. The game has come along quite nicely since the last time we looked at it, and there have been some improvements. As the testing progresses, more and more people are being allowed into the beta as well, which makes for more fun.
For those of you who haven't heard about the game yet, it is being developed and published by Psyonix and Square Enix. The game is set in the fictional world that is Legacy of Kain, and gameplay is centered around vampire versus human team matches. You play in the third-person perspective and there is a mix of melee and ranged combat. With amazing medieval alchemy tech, you can even have sun-light-in-a-bottle, grenades, and fiery explosions. Basically, it has everything you need for a good time.
The Graphics
First off, I want to talk about the graphics. They're not exactly mind-blowing, but they are definitely quite nice. I found myself being absorbed by the game because of how atmospheric the maps are. When you and your team are cornered in a half-burning house, with nothing but the flames of destruction and candles to light your way so that you can kill the vampires that are trying to get in… It's intense. It's this attention to detail in the maps and character models that make the games graphics nothing to scoff at.
Controls
I have to admit that I found the controls a bit odd at first. It took me a few minutes to get it into my head that spacebar was dodge and not jump, which lead to a few bad situations. Other than a few odd keybindings, the game has a pretty normal control scheme. WASD for movement, left mouse button to attack, stuff such as that. Honestly, if you've played a PC game that has been released in the past 5 or so years, you will pick up the controls very quickly.
Gameplay
The two opposing factions are almost completely different to play. Both sides benefit from team work, however the way you play the game is completely different depending which faction you're playing as. For example, humans are bound to the ground and use mostly ranged weapons and alchemic concoctions to fend off the vampires. While the vampires are the masters of the roof tops and skies and primarily use melee to do damage (with some exceptions). When you realize that each faction has three classes which play completely different from one another as well, with room for more, you'll find yourself surprised at just how much variety there is.
As I mentioned, the game is played from the third-person perspective. Usually, I find that I don't like games played from this perspective, as it's typically inferior to first-person. However, I didn't have any problems with it in Nosgoth. Currently, the only gamemode is 4v4 team death match, but there will more than likely be more modes further along in the beta (which is hinted at by the grayed out "siege" in the mode selection). Like I said in the graphics section, the game looks great and the maps available in the beta not only look good, but they have a very nice design – they feel quite big and offer a lot of opportunities for some brutal battles.
Each class in the game can be completely customized – from the skin (similar to how it works in games like League of Legends), to their primary ability or weapons, to their secondaries and perks. As you might suspect, you unlock most of this using the shop. As you play the game you'll gain gold coins which can be used to buy these items and upgrades. Of course, if you have a bit of spare cash you can spend some to get Runestones (the cash currency) to get the stuff as well. When purchasing something, you get the option to rent in for 7 days at a cheaper price, or to buy it permanently for about double the cost. It's a pretty fair system, in my opinion as (at least in the beta) the gold coins don't seem very hard to get, and the equipment and abilities seem mostly to change up your gameplay tactics, rather than being completely over-powered.
Vampires
Honestly, vampires are probably my favorite faction to play simply because of the Sentinel class. Who doesn't like flying around to find victims, and then taking said victims up into the sky just to drop them to their deaths. Plus, being able to turn yourself into a torpedo is fun, too. Past the Sentinel, I didn't have much fun playing the vampires though. Sure, being what is essentially a demi-god that can crawl up walls, jump huge distances, fly, and suck the blood of the fallen humans is fascinating. But fighting for the survival of your species as a human makes the game more intense (for me).
As a vampire, you will be able to climb walls and stalk the humans from the roof tops. Sentinels are the only ones with wings, so the other two classes have to settle for super leaps and other means of movement. If you enjoy hunting down a target, vampire is the way to go for you. The height advantage combined with the third-person perspective means you are the one that gets to choose when to engage. Having the power of choice innately makes you superior, in my opinion.
The other two classes in the vampire faction are the Reavers and Tyrants. Reavers are the leapers – they will jump a quarter of the way across the map and pin you to the ground while they eat your face. They also make use of poisons and potions, similar to the human alchemist. Tyrants, however, are the living tanks of the vampires and will run at you like a flesh-made-cannonball. There's a lot of difference between the classes and when you combine their innate abilities with customizable loadouts, you won't run out of variety any time soon.
Humans
Humans are stuck on the ground, and don't even have the ability to jump (tho they can dodge). They rely on their technology to take on the vampires, using things such as crossbows, bows, and grenade launchers. You won't find a human wielding a sword (at least not yet) where a vampire is concerned – keeping your distance and sticking together in a group is a must. The three classes of the human faction are the Hunters – who use crossbows and bolas to attack and snare, Scouts – who are fast-moving and use bows, and the Alchemist – who use potions to create walls of fire or throw down sun-light-in-a-bottle. Just like with the vampires, there's a decent amount of customization to keep you occupied.
Combat
Depending which faction or class you are playing, you will find combat a very different experience. I prefer playing as a Hunter with a burst-fire crossbow and grenades. More often than not, I'll find myself as the person dealing the most longed-ranged damage to the vampires due to the accuracy and damage output of the burst-fire. Basically, the name of the game as a human is to find a good corner and hide in it with your buddies, doing your best to stay alive as a horde of vampires slowly whittles you down. Distance and dodging is key to success.
While playing as a vampire Sentinel, however, my gameplay and choices in battle are completely different. My tactics change depending on the size of the group I'm taking on. If I'm facing a single opponent, I will dive down to pick him up and drop him and then introduce his face to my claws. If it's a larger group, though, I will wait for my teammates to get into place before I torpedo myself down to the center of the group and then use my wings to knock them all down. From there, I usually try to get out of the way while my team finished them off.
There are some similarities between the factions. Such as the use of AOEs, which seem to be a pretty big part of the game. It seems that most of the attacks and abilities are designed to damage more than one person at a time. Both teams need to do health management as well, with humans also having to manage ammo. For humans, they use supply stations (that can be depleted) that are spread out around the maps. Vampires… well, you can imagine how they regain their health. They also get an exp bonus for "eating" their fallen human prey.
Progression
You will progress in levels and gain gold coins as you play. So far, the only purpose of levels seems to be defining a player's experience level. You can buy anything from the cash shop at any levels (at least for now), as long as you have the gold or Runestones for it. I imagine that later on more progression will be added in. Who knows, maybe even a decent tournament scene will appear in Nosgoth.
Conclusion
Nosgoth seems to be coming along very well. With the interesting setting, intense gameplay, and Steam access, I foresee that the game will be quite successful. I didn't run into any problems while playing the beta, and it seems like the only thing it needs is a bit more content and some polish. All-in-all, I found myself loving the game and I look forward to seeing how it develops. I definitely plan to keep an eye on it and continue playing the closed beta!
Keep an eye out for our upcoming closed-beta key giveaway and First Look video from JamesBl0nde!
Next Article
It's time to be the Lawman or Blackhat you've always wanted to be! Wild West-themed MMO, Wild West Online hits Early Access today!
by Ragachak
Auer Media announced that two franchises, Diosa Force and DawnBreak: The Flaming Emperor will receive a crossover.
by Ragachak
With 11 days to go, the space MMO *Ascent: The Space Game* has now reached 60 percent in funding -- $21,291 out of $35,000 (Australian dollars...
by MissyS