Nexon Mobile Brings Marvel Battle Lines, DomiNations and Darkness Rises Holiday Cheer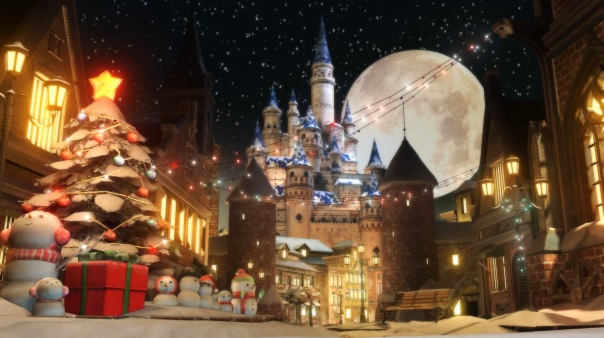 Nexon M is gearing up for the holidays with several of their popular mobile titles: Marvel Battle Lines, DomiNations, and Darkness Rises. All three of these games can be found on the App Store and Google Play, and have a host of fun events, listed below.
Marvel Battle Lines: 
Nexon and Marvel's strategic card battle game received its first major update which celebrates the Marvel Super Heroes and the Holidays with a special Holiday Party Incident event.
– Campaign Mode Update: Two new chapters with locations for players to journey across, including the Dark Dimension, Black Panther's homeland of Wakanda and Karma-Taj, where Doctor Strange trained, leading to the ultimate battle against Thanos.
– Holiday Party Incident: This special event shakes up the formula of the game. No cosmic fragments are generated on the battlefield, instead, two cosmic fragments are placed in each player's inventory on their turn. When opponents create a Battle Line attack, they drop two holiday presents, which players need to collect to win the stage and earn special rewards.
– Holiday Sale: Surprise Card Pack packages will be on offer for a limited time only.
Special Ops Update: New subquests, including a hunt for the 6 cosmic fragments will give players new strategies to explore and introduce the immortal Marvel Super Villain Shou-Lao.
DomiNations:
Downloaded more than 40 million times worldwide, DomiNations is a strategy game from Big Huge Games that lets players lead and build-up their own civilization from the Stone Age to the Space Age. The latest holiday updates turn DomiNations into a Winter Wonderland complete with arctic animals and festive forestry.
– Wintry Gifts: For a limited time, players can open gifts found on their base that can award powerful tanks, Speed Ups and Manuals, or huge shipments of Food and Gold!
– Charlemagne's Elephants Event: Players in 800 CE can earn an Elephant Stable in celebration of Charlemagne, crowned emperor on Christmas Day!
– Winter Festival: Celebrate the season with a Present Workshop that awards festive, loot-filled presents.
– Merry Marco Polo: Looking for the traveling merchant? He's changing into his merry look and packing the limited-time deals.
Darkness Rises:
Darkness Rises is the third-person action RPG that immerses players into a dark fantasy universe, pitting players against powerful enemies and hulking bosses that must be conquered in order to stop an evil force that's spreading darkness across the world. Starting today, players can deck the dungeons with holiday spirit with new Christmas themed costumes and weapons for all classes (including the new Archer class) as they explore and wreak havoc on their enemies with their new pets at their side.
– Pets: Darkness Rises introduces pets! Pets are attached to certain elements and increase each character's damage output, even more so when battling against the proper elements.
– Archer: Players can strike from a distance with precision as the embark on this epic adventure with the brand-new Archer character.
– Log-in Rewards: Players who log-in for complete a special holiday event will be awarded a limited time "Rudolph" pet.
– Journey Event: Users get rewards when they complete their mission.
– Live-Ops Event: Users get points when they complete their mission that can be traded with various rewards in the event store.
Next Article
BANDAI NAMCO Games Europe S.A.S announced today that RIDGE RACER DRIFTOPIA's open beta will be finished in 60 days. The leading developer an...
by Mikedot
Gamania Digital Entertainment (publishers of Bright Shadow, Lucent Heart, and Divina) have revealed a new private event to showcase Core Blaz...
by MissyS
Hope van Dyne is the daughter of Janet Van Dyne and Hank Pym from the Marvel Cinematic Universe (Earth 199999).
by Ragachak