New Total War Humble Bundle Offering Massive Exclusives and Huge Savings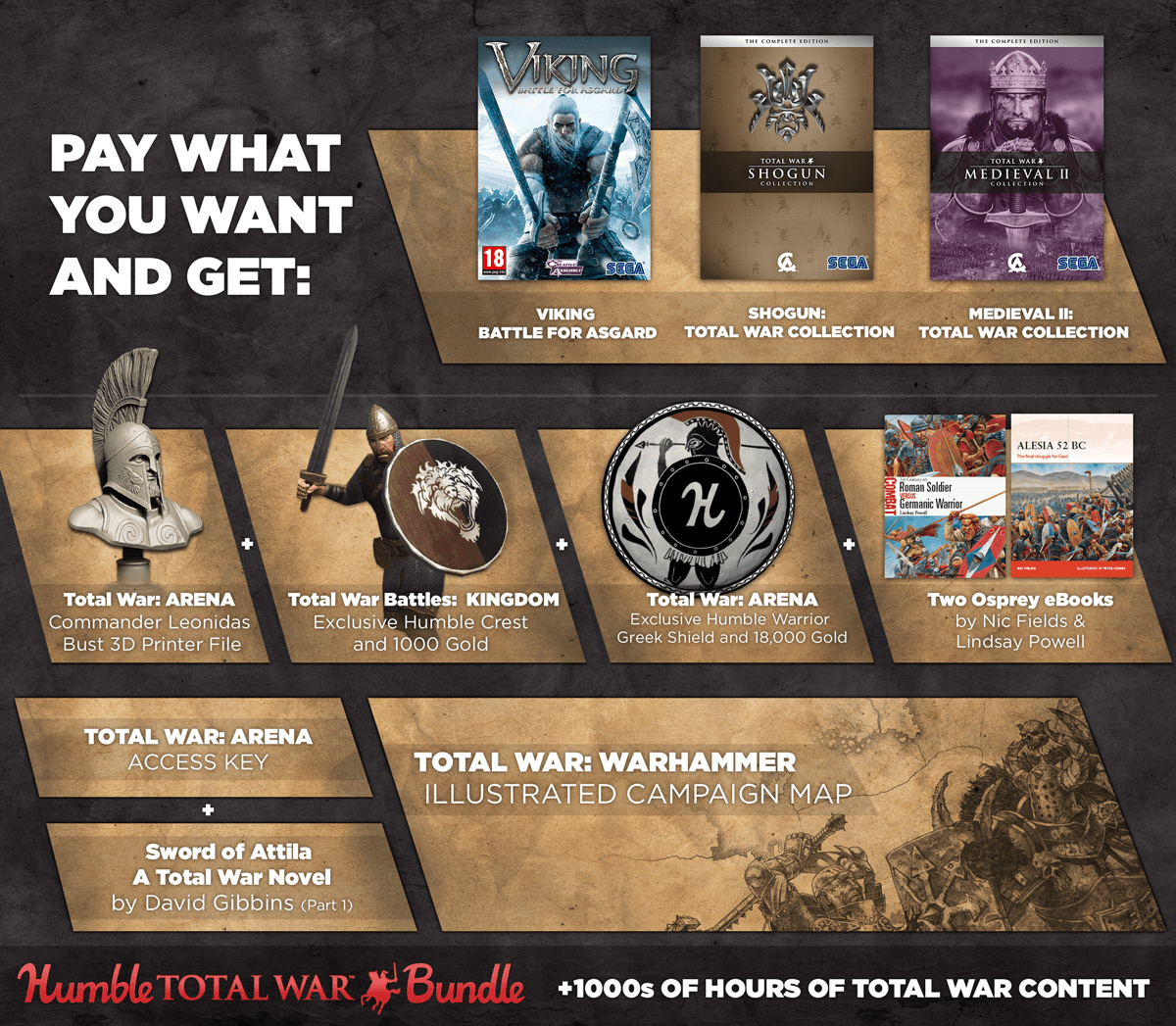 Humble Bundle welcomes SEGA and Creative Assembly this week for a new Humble Total War Bundle loaded with thousands of hours of content. This bundle features a huge selection of Total War games from Shogun: Total War, all the way to Total War: ROME II – Emperor Edition.
Gamers can name their price for the core collection where they will receive Medieval II: Total War Collection and Shogun: Total War Collection. Additionally, customers will receive Viking: Battle for Asgard and extra loot such as an Exclusive Total War: WARHAMMER Illustrated Campaign Map, Total War: ROME Original Soundtrack, Sword of Attila – A Total War Novel, and Two Osprey history books on the Roman Period. Also included are some great goodies for Total War: ARENA including instant Beta Access, an Exclusive Humble Warrior Greek Shield and Commander Leonidas Bust 3D Printer File and for Total War Battles: KINGDOM, an Exclusive Humble Banner Heraldry and $10 of Gold for your Kingdom's coffers.
Pay what you want, for all that.
Gamers who pay more than the average will receive all of the above plus Empire: Total War Collection, MEDIEVAL: Total War Collection, $10 of Gold for Total War: ARENA and a Total War: ATTILA 66% off coupon for the Humble Store.
Customers who pay $15.00 or more will get all of that plus Total War: ROME II – Emperor Edition, also included is an array of Total War: ROME II DLC – Wrath of Sparta Campaign Pack, Caesar in Gaul Campaign Pack, Nomadic Tribes Culture Pack and Pirates and Raiders Culture Pack.
Customers who pay $30.00 or more will receive all those items as well as a limited edition Total War T-Shirt.
Check out the full promotion at https://www.humblebundle.com/.
As with all Humble Bundles, customers can choose how their purchase dollars are allocated, between the developers, Humble Bundle and charity. This Bundle supports Willow Foundation, SpecialEffect, Royal Surrey Hospital, Walking with the Wounded (UK) and Boon Lotts Elephant Sanctuary (BLES).
Humble Total War Bundle runs now, for two weeks, and ends Tuesday 29th September at 11am PDT/6pm BST.
Next Article
Warriors, come out and play! ESTsoft, Inc. revealed details for its latest content update for CABAL 2, available starting Oct. 14.
by MissyS
Guild Wars 2: Stronghold Public Beta Goes Live on 14th - Everyone is invited to try out this new mode
by Mikedot
An exciting new update is coming to the Orcs Must Die! Unchained closed beta on Tuesday, September 23.
by MissyS