More than 5 million Heroes & Generals players worldwide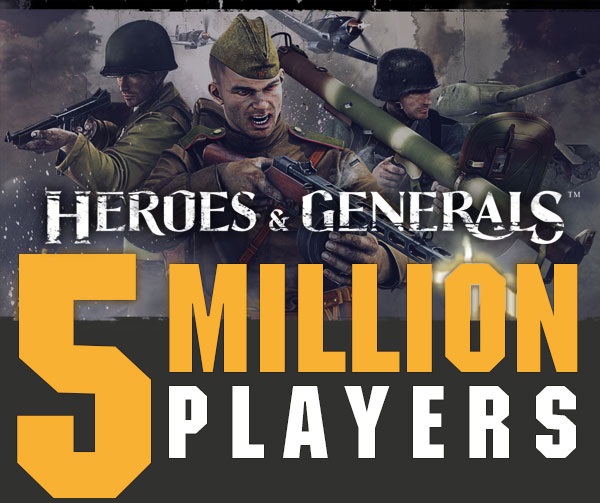 The independent developer Reto-Moto is proud to announce that there are now more than 5 million registered Heroes & Generals players worldwide in their popular WWII MMOFPS.

Heroes & Generals was one of the first 10 games to be greenlit by the community on Steam, and since the July 2014 release on Early Access, it has seen a steady growth in the player base. Of all 2014 releases on Steam, Heroes & Generals was the third most popular (Ars Technica, May 2015) and currently resides as one of the 10 most popular free-to-play games on Steam.

"Reaching 5 million players is a huge milestone for us, and we are very grateful for having such a large and engaged community from all parts of the world." says Martin Munk Pollas, CEO at Reto-Moto. "We would like to thank all the Heroes and Generals, who makes this player-driven universe come to life and we promise we will continue to work hard adding new content and features to give the ultimate WWII gaming experience to our players."

To celebrate the 5 million players milestone, Reto-Moto will give away free Gold voucher codes this weekend. Find more details about the voucher codes here.
The Shadowbringers™ saga continues in FINAL FANTASY® XIV Online as SQUARE ENIX® today released Patch 5.2: Echoes of a Fallen Star.
by MissyS
http://mmohuts.com/wp-content/themes/mmohut/images/homepage/509d0f00b163ecfaea075bffdacdb93d.jpg
by Mikedot
Outspark has released a new trailer today for Fiesta Online, showcasing a new Kingdom Quest.
by MissyS