Monster Super League Update Introduces Crystal Shop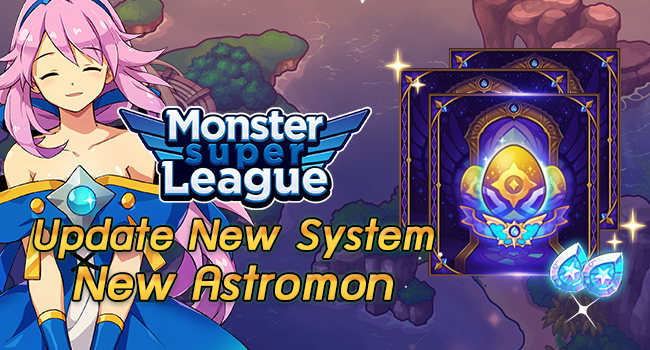 4:33 Creative Lab has announced new content now available in Monster Super League, its mobile collection RPG. This new update introduces the following features:
The Crystal Shop
A new in-game currency called Crystals is earned by spending Astrogems on summons in the Special Shop. Each 10+1 pack summon will earn you 33 crystals while a single summon nabs you 3 Crystals, this can be spent at the Crystal Shop to purchase energy and gold packages, light and dark eggs and gleems. By spending crystals, trainers will have another avenue to purchase resources that they need to keep adventuring. To find the Crystal Shop: [Airship] > [Special Shop] > [Crystal Shop]
Stone Fusion System
Trainers can now fuse lower grade starstones and turn them into higher grade starstones in the new stone fusion system. The system will unlock once players have cleared Stage 15 of Star Sanctuary in <HARD> difficulty. To find out more about the fusion system and materials required: [Airship] > [Monsters] > [Ascension] > [Stone Fusion].
New Astromons
The three new Astromons obtainable through summoning are 5★Shiva, 4★Sura and 3★Phibian that will each be available in fire, water and wood elements. To celebrate this, we've increased the summon rate for all elements of 5★Shiva at the special shop so more trainers can add him to their team and test his raw power!
Adjusted Fusion Requirements
The requirement of performing fusion has significantly reduced, players will be ecstatic to know that Astromon materials need not be at maximum level now for fusion to occur. Evolution 3 and 2 Astromon materials have been brought down to evolution 2 and 1 respectively. Fusion changes can be seen in the following chart:
 Astromasters' Association
There are 2 branches that make up the Astromasters' Association – Capture League and Astromon Laboratory. The Association rewards trainers who contribute to Astromon research by discovering and capturing Astromons that range from Rare to Legendary. For now, Capture League is open to all trainers who have cleared Stage 6 Lunar Valley in story mode while Astromon Laboratory will be available in future updates. To learn more about Astromasters' Association : [Airship] > [Play] > [Astromasters' Association]
New Map Areas
The third continent of Orisia will be revealed in coming updates, where players can further test the limits of their team in these new cities once it is available.
Next Article
Aeria Games has announced the dates of its regional qualifications round for the A.V.A International Championship and is calling for teams to ...
by Mikedot
Developer Fatshark announced today that its latest character reveal for Warhammer: End Times – Vermintide is Bardin Goreksson.
by MissyS
Today, Nexon Europe is pleased to announce the launching plan for the highly anticipated free-to-play Counter-Strike Nexon: Zombies, as the St...
by Mikedot