Marvel Heroes 2016 Civil War Update Released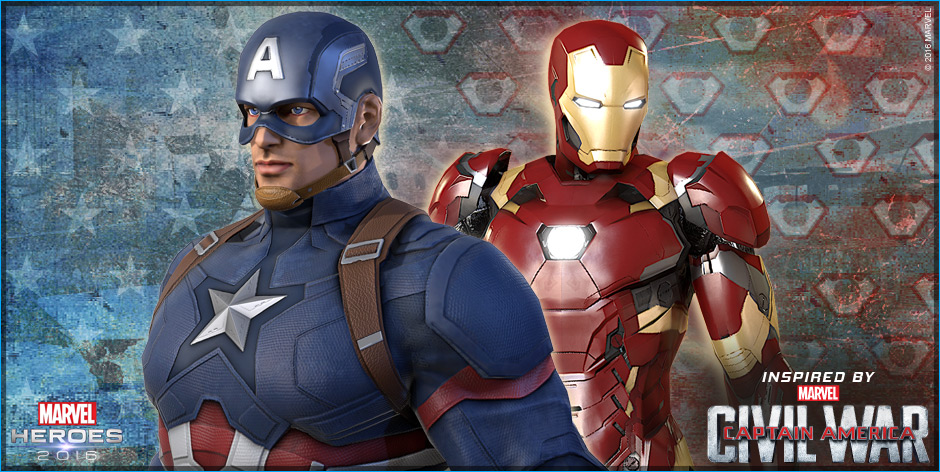 Gazillion, Inc. continues to deliver on its promise of regular, high-quality additions to Marvel Heroes 2016 with today's announcement of new content inspired by the U.S. theatrical release of Marvel's Captain America: Civil War, now in theaters. Starting today, Gazillion's superpowered action-RPG begins its month-long rollout of ten costumes inspired by the film, two Team-Up Super Heroes, themed tournaments, and new gameplay scenarios that will face players against Crossbones and eventually require them to decide between Team Captain America and Team Iron Man. Beyond today's tie-ins, Marvel Heroes 2016 also welcomes new players with a completely redesigned, more dynamic game opening, which pits the Avengers against a ruthless Ultron attack on Times Square.
Here's what fans of Marvel's Captain America: Civil War can expect today:
Two Movie-Inspired Costumes: Captain America and Iron Man.
Gameplay Scenario – Crossbones: The cold-blooded mercenary Crossbones attacks a bazaar on the island nation of Madripoor. It's up to our heroes to save innocent civilians and disable bombs before time runs out. Crossbones also terrorizes the game's replayable patrol zones!
Two Themed Mystery Boxes: Players have a chance at exclusive Captain America and Iron Man Team-Up Super Heroes.
One Free Captain America or Iron Man Character Unlock: Players can enter code TEAMCAP or TEAMIRONMAN at marvelheroes.com/redeem through Sunday, May 8 for the hero of their choice. Only one can be chosen.
Weekly content updates throughout the rest of May will result in further film-inspired releases (exact dates to be announced):
Eight More Movie-Inspired Costumes: Ant-Man, Winter Soldier, Scarlet Witch, Hawkeye, Black Panther, War Machine, Black Widow and Spider-Man.
Two Team-Up Super Heroes: Agent 13 and Falcon (complete with his reliable drone, Redwing).
Gameplay Scenario – Whose Side Are You On? Those who have defeated Crossbones can experience yet another new gameplay scenario at an airport, which forces a tough choice upon them: Team Cap or Team Iron Man? Then comes a climactic showdown against the other side.
Themed Tournaments and Daily Scenarios: Players contribute points to their team's leaderboard, and daily themed scenarios invite their participation in additional competitive missions.
In addition to content inspired by Marvel's Captain America: Civil War, the brand new opening to Marvel Heroes 2016 makes now the perfect time for new players to suit up as any of the game's 57 playable Super Heroes and Super Villains. Gazillion has entirely replaced the former introductory bank robbery scenario with a much more dramatic, cinematically influenced situation that would feel right at home on a movie screen. Now, the game introduces everyone to its mechanics through gameplay featuring three different playable Avengers – Captain America, Black Widow and the Hulk – as they team up to save Times Square from an Ultron invasion. Even better, many new players will no longer need to wait out a huge download, as InstaPlay streaming technology from Ubitus Inc. allows for immediate access.
"A huge movie release like Marvel's Captain America: Civil War demands that we keep pace with an equally huge update to Marvel Heroes 2016 – and whether you support Team Cap or Team Iron Man, we've got plenty for you to sink your teeth into," says Jeff Lind, Gazillion's Chief Operating Officer. "Also, with our new player experience launching today – and with no more download wait for many U.S.-based players, thanks to Ubitus' InstaPlay technology – the game has never delivered such an immediate immersion into the Marvel Universe. If Marvel Heroes 2016 hasn't won you over yet as a new player, all of this great new content just might do the trick."
Next Article
The makers of Subway Surfers present an action arcade adventure like no other.
by MissyS
Tiger Knight: Empire War is a confusing game. A fun game, to be sure. But a confusing game, none-the-less.
by ApocaRUFF
The new update features all-new gear and a real-time score tracker as players compete in the harrowing new "Blackwaves" instanced event.
by MissyS