Marvel Future Fight Unveils Frightening New Features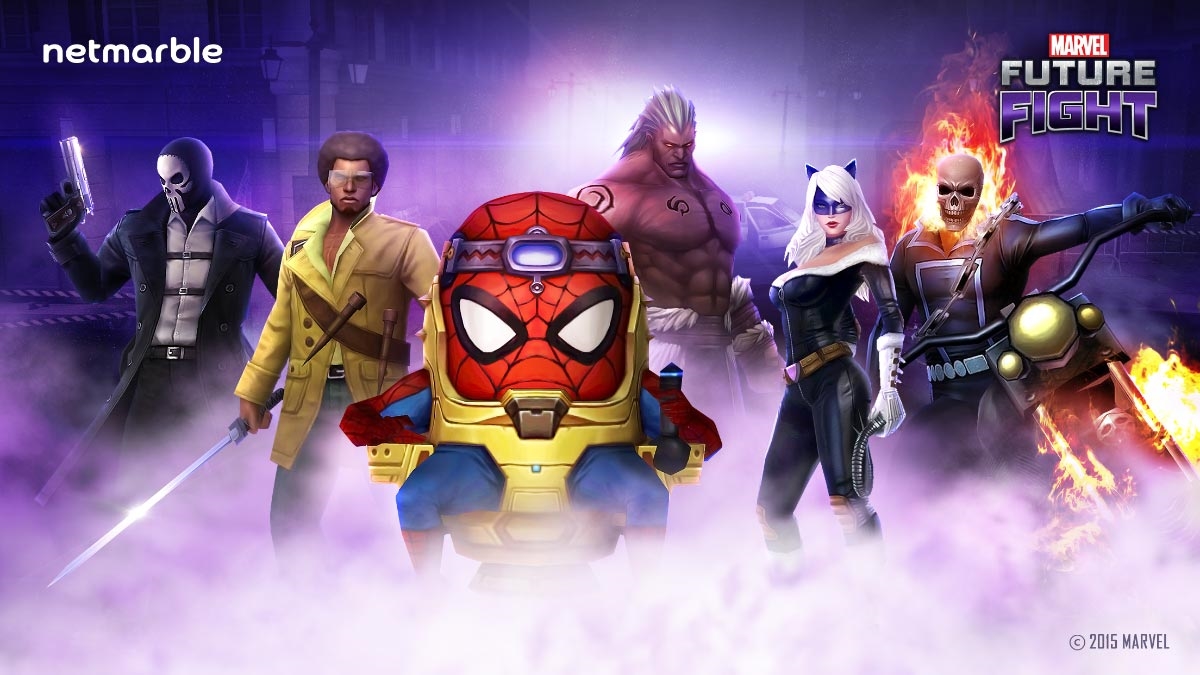 MARVEL Future Fight, the blockbuster Mobile Action RPG from leading Korean gaming company, Netmarble Games, has released the newest update featuring ferociously frightening new characters, new sets of creepy costumes and more. Hot off the heels of MARVEL Future Fight's latest update for Marvel's Agents of S.H.I.E.L.D., the brand new update The Perfect Halloween introduces three brand new characters, Lash, Warwolf and Elsa Bloodstone into the fray, just in time for Halloween. Along with these fearsome new characters, six more characters will also receive new uniforms including Blade, Ghost Rider, Punisher, Black Cat, SPIDOC and a Marvel's Agents of S.H.I.E.L.D. variant of Lash.
As Halloween is approaching this weekend, players will be able to immerse themselves into an appropriately themed in-game event stage. MARVEL Future Fight story missions will be decorated for Halloween, while villainous bosses such as Venom and Green Goblin seek to wreak havoc on the universe. Six star skill sets have also been added for Super Heroes such as Punisher, Black Bolt and Thor to help defeat these brand new threats.
"We hope that fans of MARVEL Future Fight will enjoy our first seasonal update timed to Halloween. With the Marvel Universe crawling with a fair share of sinister Super Villains, the game will take a frightening turn with this new update," said Seungwon Lee, President of Overseas, Netmarble Games. "The goal is to always keep our game consistently updated with fresh new content to keep fans coming back for more Super Hero excitement and adventures."
Additional exciting new gameplay features in The Perfect Halloween update include:
New Characters: Three new characters guaranteed to bring an onslaught of horrors include Lash, Warwolf, Elsa Bloodstone
New Uniforms: Six characters will be receiving a mix of modern and classic new uniforms including Lash, Blade (70's Classic), Ghost Rider, Punisher (Noir), Black Cat (Claws), and wait until you see the SPIDOC variant of M.O.D.O.K!
New Six Star Skill Set / Upgraded Character Balancing: Three Super Heroes will be receiving new six star skill sets including Punisher, Black Bolt and Thor. Two tutorial characters will also receive regular hit and six star skill improvements – Thor and Black Bolt
New Event Stage: Halloween themed event stage with bosses such as Venom and Green Goblin
New Alliance Battle: Weekly alliance battles will be held daily
Various Improvements and Bug Fixes
The idea of providing a simple tool for gamers to create their own games or RPGs is not a new one.
by Abubakr
RuneScape players vote for a cabbage-themed, gorilla-filled Easter event.
by MissyS