Marvel Contest of Champions: Omega Red Released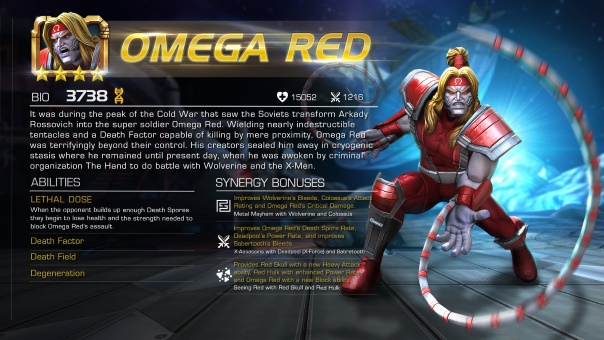 Marvel Contest of Champions has added a new character to its roster today: Omega Red.
It was during the peak of the Cold War that saw the Soviets transform Arkady Rossovich into the super soldier Omega Red. Wielding nearly indestructible tentacles and a Death Factor capable of killing by mere proximity, Omega Red was terrifyingly beyond their control. His creators sealed him away in cryogenic stasis where he remained until present day, when he was awoken by criminal organization The Hand to do battle with Wolverine and the X-Men.
Omega Red's main abilities are Death Factor, Death Field, Degeneration, and Life Steal. You can find out more at the link below.
Chaos Interactive Ltd. is revealing the first detailed look at Seldon Crisis, an open world sci-fi massively multi-player online game (MMO) ba...
by Mikedot
Until Sunday, Feb. 23, pre-approved players from select regions will be battling it out or banding together in Hunter's Arena: Legends.
by MissyS
Echo of Soul, the upcoming free-to-play fantasy MMORPG, has revealed a treasure trove of information about the game's backstory, characte...
by MissyS