MapleStory Marvel Machine Event Now Live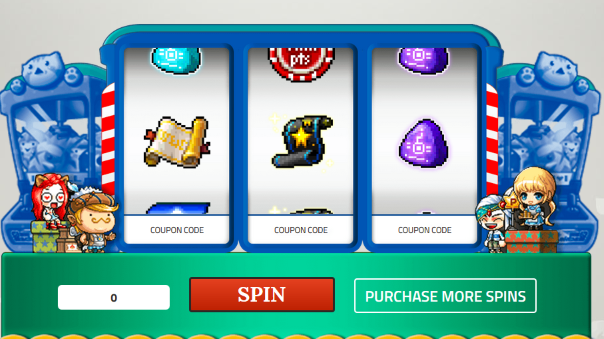 Spin to win in MapleStory's Marvel Machine event! It starts today and is now officially live. Each purchased spin for this grants three random prizes, which can include in-game equipment, Cash Shop items and even exclusive Marvel Machine only items! It lasts from Aug. 18th through Aug 27th and spins on the wheel are purchased with NX [Nexon's Currency]. NX Prepaid must be used. Players can then click the "Spin" button to use the Machine itself. The Marvel Machine offers up coupons, which can be redeemed at the Cash Shop to receive the physical items. Don't miss out on these incredible items!
Several new items for this run of Marvel Machine have been added, including:
* Firestarter Ring: Grants a skill that can be activated to increase the Burning stage level
of the current field.
*  Lv. 160 AbsoLab equipment
*  100% 15-Star Enhancement (Lv. 150) and 100% 15-Star Enhancement (Lv. 160) scrolls
*  New chairs: Blazing Lotus Chair, Gondola Pair Chair (if two people who both have the
chair sit near each other, an effect appears!), Pink Bean Ice Cream Umbrella, Fire
Engine Chair, and Animal Crystal Ball Chair.
In 2013 Plarium launched Soldiers Inc.™ on Facebook. Soldiers Inc. takes players to the year 2019, where a team of hired mercenaries have be...
by DizzyPW
Roughly a month out from my Heavensward review was posted, and I'm still addicted to the game.
by Ragachak
League of Legends launching major graphical overhaul. Riot games will release new graphics and a new hero - Miss Fortune.
by Guest