MapleStory M Adds New Aran Class In Expansion Content Update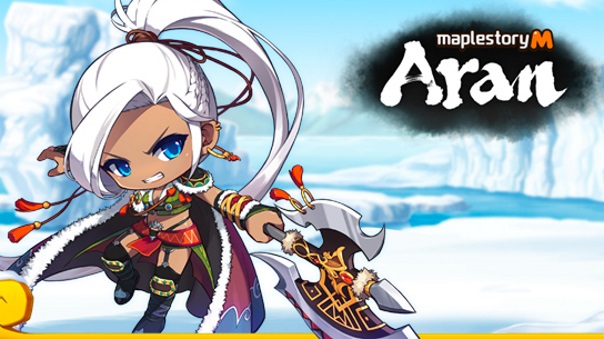 The latest MapleStory M update is here, and with it comes a new class, Aran. The legendary polearm-wielding hero is famous for sealing away the Black Mage. Alongside the arrival of Aran, Rien, a winter island that froze Aran in ice, has also resurfaced. Guild Fort Battles also came in this update, where players can compete with different guilds, and check their ranks in-game. The most famous boss in Maple World, Pink Bean, can be challenged by players in Normal and Hard mode. Nexon is also celebrating with an Aran Update Event, an Aran Growth Event, and an Aran Burning Event.
Through November 30th, all players will receive a one-time special item, which includes Auto-Battle Tickets, and Mysterious Weapon & Armor Refining Powders. In addition, through December 18th, players can level up Aran to receive special in-game rewards, such as the CHair of Aran the Guardian, Riding PEt Ryko, and an Aran the Hero Medal. The Aran class also receives two bonus level ups between level 3 to 75 also. If all that weren't enough, all players who log in before November 30th receive the three types of Buff pets in celebration of Aran's arrival.
Gumi has announced a juggernaut partnership between Phantom of the Kill and Brave Frontier.
by DizzyPW
Aeria Games, a leading global publisher of free-to-play online games, has announced the first major content update for the massively multiplay...
by MissyS