MapleStory: LINE FRIENDS X MapleStory Event Guide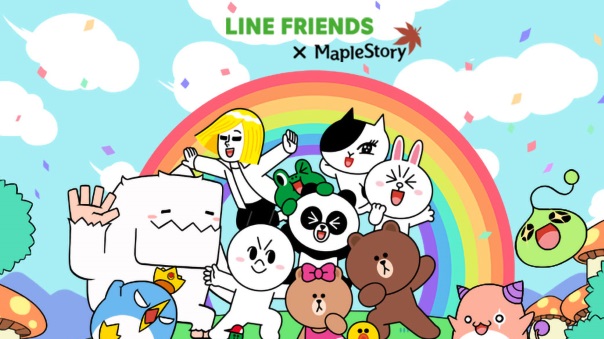 Time flies when you're having fun! This is certainly the case with MapleStory as it gears up to celebrate its 14th anniversary. To help commemorate this major milestone, MapleStory has partnered with LINE FRIENDS for a fun event. This exciting collaboration allows players to experience Maple World in a way they never have before alongside CONY, BROWN, LEONARD and the rest of the LINE FRIENDS characters!
The LINE FRIENDS X MapleStory event is only for a limited time from April 24-May 21, so come celebrate and explore before the fun ends. Here is a quick and fun event guide to let you know all that this co-promotion has to offer.
Take Maple World Tour Pictures: Explore Maple World with the flashy InstaCam. Players can earn LINE FRIENDS Stickers and LINE FRIENDS Coins if they take pictures of Maple World's celebrities and famous places. In addition, players can also take pictures of monsters every day with this camera! Once several of the monster paparazzi photos are taken, players can then obtain the LINE FRIENDS Gift Box, containing various rewards and LINE FRIENDS Coins. There is also a special medal awarded to players who bring an abundance of Maple World photos for the LINE FRIENDS, so be sure to snap as many photos as possible!
Find Maple World's Memorable Souvenirs: Earn a LINE FRIENDS Gift Box by collecting special souvenirs that can only be found in Maple World. There are a total of 14 item quests and players can gather 1 item for CONY per day. When you gather the item for CONY, you'll receive a LINE FRIENDS Gift Box! Players can also visit Cassandra for help finding souvenirs. After the special collection is completed, you can receive the CONY's Gofer title that grants your character buffs to your stats.
Keeping the Peace for LINE FRIENDS: Be a knight in shining armor by hunting monsters to help the LINE FRIENDS continue to explore Maple World in peace. Players must hunt 500 monsters near their level range each day to receive a reward. Every time this quest is completed, players will receive a LINE FRIENDS Gift Box.
Cash in Those Hard Earned Coins: After collecting all the LINE FRIENDS Coins from the various event tasks, it's time to cash in by visiting the LINE FRIENDS Coin Shop. There are a variety of items available including LINE FRIENDS themed items such as the Permanent LINE FRIENDS Sticker Coupon, Chillin' with LINE FRIENDS Bench, Boppin' LINE FRIENDS Truck Mount Coupon and other rare items. The hardest part about this event will be deciding what to purchase with all the coins!
To learn more about the LINE FRIENDS X MapleStory event, check out the patch notes here and follow MapleStory on Facebook, Twitter, and Instagram for the latest updates.
As 2018 passes us by, Ship of Heroes took a look back over the past year, and are looking forward to what's in store for 2019.
by Ragachak