Magerealm Reveals Angel of June, Casirae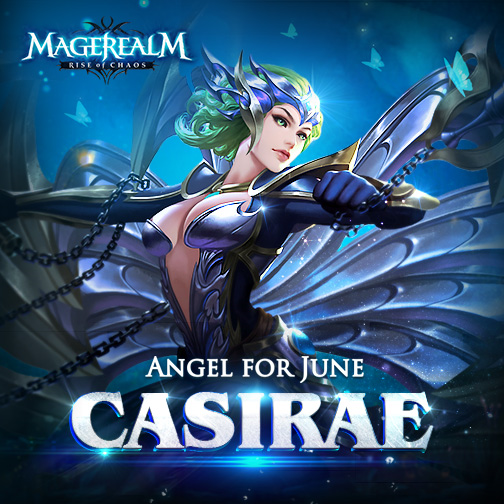 Magerealm, GTArcade's action-packed 3D MMORPG, is excited to introduce a new Angel to the Realm – Casirae, the Angel of June! Casirae has come to the Realm to defend against the growing darkness.
Known as the Great Defender by other Angels, Casirae always puts the lives of others before her own. On the battlefield, Casirae is most often seen defending her comrades and tending to the wounded while under fire. If given the chance to strike a fatal blow to an enemy or save an ally, she would choose the latter every time. This has earned her many life long friends, but also criticism for her soft nature.
In Magerealm Casirae is a defensive orientated Angel .With her Carapace skill, she can create a shield on her entire team that absorbs a significant amount of damage while greatly boosting their Defense and Pierce Rate. If you find your team lacking in defense or need to survive through a particularly challenging area, then Casirae is the perfect addition. User her carapace to keep your team alive through even the most deadly onslaughts.
Try out the newest Angel today and explore new strategies and tactics. If you have not tried Magerealm yet, now is the perfect time to experience one of the best free to play action MMORPG's available!
RuneScape has released a new game for players to test their luck on: the Squeal of Fortune.
by MissyS
Travian Games is celebrating the 15th anniversary of its flagship title, Travian: Legends, with a special community event: Codex Victoria.
by MissyS
World of Tanks Update 8.8 just went live and to showcase these changes, Wargaming America will host a one hour live stream featuring World of ...
by MissyS