Mad Rocket: Fog of War Begins Pre-Registration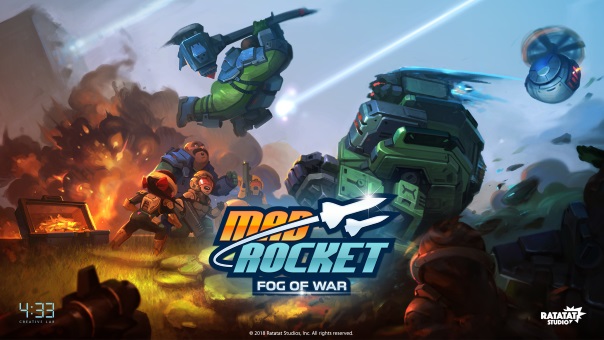 Mobile Game Developer/Publisher FourThirtyThree has announced the pre-registration for their new mobile strategy game, Mad Rocket: Fog of War has begun. Those who pre-register receive a variety of in-game items, such as 600 Gems, 200 Gas, and 3 Rare Chests. Ratatat Studio is developing the title as a PVP strategy game that lets players engage in tactical battles and design bases that are sturdy enough to withstand an enemy assault. 'Fog of War' can be used to hide or reveal key tactics at just the right time, as enemies cannot know where a base is that is hidden in the Fog of War.
Several features are added up for the more intense strategic game experience. Diverse weapons and units provide tactical choices for players to carry out multiple strategies. Players can use different kinds of units to break through the enemy's defense by finding the most effective combination. Also, the tile-based map system gives the players a puzzle-like experience as they can freely design a base of their own. Multiplayer options provide players the opportunity to compete and cooperate with each other. Rank Seasons open monthly and allow players from all over the world to engage battles and increase their rank. Also, the game provides a cooperative community system. Players can cooperate with clan members by solving clan missions and share gameplay videos to interact with each other.
Key Features
–       Use 'Fog of War' to hide, or unveil key strategies!
–       Defend against attackers with unlimited strategies!
–       A wide collection of weapons at your disposal!
–       Upgrade defensive strategy and fortify the flying fortress!
–       Battle players worldwide in the PvP mode!
Next Article
Designed specifically for iOS and Android mobile devices, Re:Evolve offers its players a surprisingly high-quality MMO experience.
by Inohe
Spacetime Studios has announced their next title, Pocket Legends Adventures, an epic, exciting multiplayer RPG for iOS and Android platforms.
by Ragachak
One of the best mounts in Knight's Fable made its long awaited debut on the latest update on 11.26, the day before Thanksgiving. Scorpio is ...
by Mikedot