Mad Machines Is a Free-to-Play Indie Multiplayer Now on Steam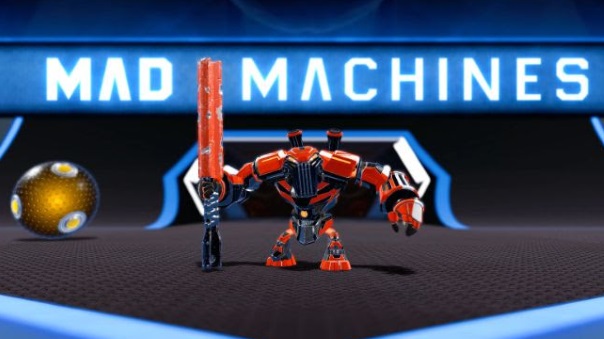 Mad Machines is a new indie multiplayer now available on Steam from Hero Blocks ApS. The game's competitive season will begin on April 4th with Season Zero, and players who start today can earn in-game skins for weapons and machines immediately for free. Mad Machines was inspired by several sports, such as football, hockey, tennis, and baseball. Each playable machine features a powerful magnet used to control, pass and shoot the game's deadly Spikeball. Players can play 1v1, 2v2 or 3v3 games. Once the season starts, players can earn free content from playing and competing in ranked ladders to highlight their in-game skill.
Mad Machines launches on Steam with three classes – Assassin, Support and Heavy, and each class will have a playable model:
Train: Think of these runaways as the tank class in Mad Machines, capable of hitting big shots and leaving opposing robots a train-wrecked mess of parts.
Chopper: This assassin model is for gamers who like to strike fast and move faster when killing robots.
Ship: Support players will board this model, which is tough enough to tussle with Trains and quick enough to bring down Choppers.
Mad Machines will introduce its Season Pass with the launch of the game on Steam. This pass is $9.99 and gives access to custom skins, new weapons, in-game badges, banners, and access to exclusive tournament rankings. There will also be a limited-time "Founder's Weapons Pack," which includes one weapon skin for each class and is only available until Season Zero begins for $14.99.
Players interested in both can purchase a limited-time "MAD Bundle," which offers both the Season Zero pass and "Founder's Weapons Pack," for $14.99/€10.99. More details are available on the game's Steam page, including about Grease, which includes a Monkey Wrench weapon for $3.99.
"Mad Machines is a sport in the making and we're ready for the passionate players on Steam to join us on this journey," said Hero Blocks CEO Carsten Nissen, who is also the game's lead designer. "If you want to showcase your talents as a gamer and a teammate, Mad Machines is ready for you to achieve greatness. And with the awesome free content we're releasing for players to earn, there's every reason to play Mad Machines today."
"When you're creating a sport, you want to also create great opportunities for competition, which is why Season Zero is such a priority for our team," Nissen said. "We see this as a real opportunity to learn from players and show why we're so passionate about making this game with them."
Auer Media & Entertainment Corp. has launched the latest mobile sequel to the beloved classic PC game Empire of Angels globally.
by MissyS
Finally there is a progressive shooter for Warhammer fans on the market: Warhammer 40,000: Eternal Crusade.
by Proxzor
Codebrush Games, the developer of the multiplayer fighting game ArcheBlade made an announcement this week that the game is officially launchin...
by Mikedot