Loot-Filled Zombie Pinatas Overtake Entropia Universe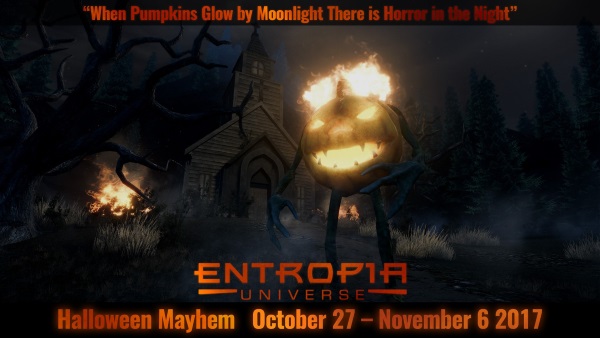 This Halloween, forget the stale candy and movie reruns, and instead bash 'zombie piñatas' in Entropia Universe for virtual items that can be redeemed for real cash. The event begins this weekend and runs through Monday, Nov. 6. Halloween Mayhem is an annual spooky and supernatural graveyard event within the legacy online world of Entropia Universe. This event is a unique opportunity for players to claim unearthly treasures for themselves by overthrowing and scavenging haunted enemies. Grand prizes will be awarded to the top 15 players who score the most points during the event. All participants can earn bonus prizes for reaching certain point thresholds as well. In all, items totaling more than $9,000 will be available which is a huge cash prize for playing the game! Complete details can be found below. If you'd like to see the points you get for various items, it is listed below:
·        Rotten Halloween Pumpkin (1 point)
·        Sickly Halloween Pumpkin (5 points)
·        Damaged Halloween Pumpkin (10 points)
·        Healthy Halloween Pumpkin (20 points)
·        Mature Halloween Pumpkin (50 points)
·        Fully Developed Halloween Pumpkin (100 points)
·        Twin Halloween Pumpkin (500 points)
·        Mutated Halloween Pumpkin (1000 points)
·        Great Halloween Pumpkin (5000 points)
So get in there and get the Great Pumpkin! There are also valuable weapons, armor and other items hidden in the festering flesh of the undead creatures! The legendary "Halloween Ring" is one of those. A 2016 edition of the ring was traded for more than 4,000 dollars. Players can also not loot Halloween Strongboxes that could contain the ring, a Unique Sacrificial Dagger and much more.
The Halloween Mayhem event in Entropia Universe will be accessible at the following locations:
Nymphtown, Fort Ithaca, Minopolis and Fort Zeus. The gates will become active once the event starts, with five event instance levels available
Next Article
4game has announced that it will open a new European server for Lineage II: Epic Tales of Aden.
by MissyS
The highly-anticipated update to Brave Frontier is now available, bringing the dynamic new Raid Battle feature to international players.
by MissyS
Game Insight announces Cloud Raiders, a PvP focused mobile game coming soon to Android and other devices.
by MissyS