Lineage 2's 'Prelude of War' Update Launches on 4game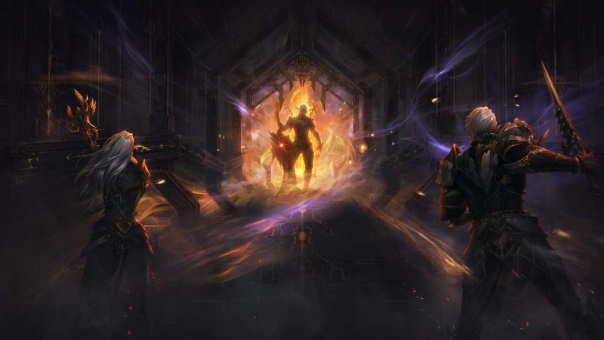 The latest update to Lineage 2, on the 4game servers, "Prelude of War" went live yesterday. This update allows a player a random chance to become a raid boss and loot 10 billion Adena. The catch though is that the player has to survive until midnight, with the whole server hunting them down. Two types of damned weapons can drop; The two-handed Zarich, and the dual-wielded Akamanah swords. These can drop from any mob or even a player, from Monday through Thursday, between 18:00  – 23:59 CEST. Whoever picks it up takes on an impressive demonic appearance, and at the same time, the parameters of a raid boss. That's when the race for survival begins.
The goal of the new owner of these weapons is to survive and get rich, but you cannot hide in a peace zone: these swords are demonic and require sacrifice. The owner has to constantly kill other players with them, but their location is known to the entire server, and there are those who may want to pick up the weapon and risk it all for the reward. If you are not a fan of PVP, the Prelude of Wr event also has PVE encounters to challenge. Every morning at 6:30 CEST, the top 100 characters within the server, and the top 10 characters within the race are determined by the amount of experience. Bonuses are given out to the top slots, but everyone will automatically bow to the person on top. As soon as such a player is in a city, then everyone will bow to them.
"Enemies will bow before you," reads the slogan of the Prelude of War update. And you can make them bow in different ways: winning PvP for the demonic weapon or taking the first line of the rating in PvE.
Next Article
Leading online game developer and publisher, Joymax, today announced that players of its phenomenal MMORPG, Silkroad Online can now purchase p...
by MissyS
With Trion Worlds purchasing Gazillion, they will be utilizing these materials to create new products and new IPs.
by Ragachak
For a free to play game, Dungeon Blitz offers their players a lot of options to customize their characters. Beyond the ability to change your ...
by DizzyPW