Lineage 2: Revolution Releases 'Main Profession' Update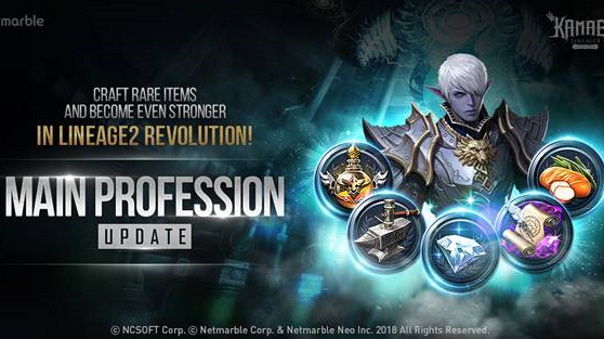 Lineage 2: Revolution has a brand-new update going live today from Netmarble, that adds crafting to their world. As of today, players can create items and upgrade their equipment through one of the five Main Professions: Alchemy, Smithing, Gemcutting, Enchanting, and Cooking. Crafting materials are able to be gathered in the 'Harvest Dungeon', where players can mine, gather, and fish as needed.
Another change is that the Soul Crystal system has been refreshed, for easier Soul Crystal upgrading, and a new Clan Dungeon is available in the form of "Tiat's Altar". Defeating the boss will net awesome rewards for the clan. There are five new Agathions to collect it as well. Finally, there are plenty of Halloween Events, which we have listed below.
 Halloween Events in Lineage 2: Revolution:
o   Players can acquire rewards from the skull balloon appearing in Magnadin during the Skull Balloon Event
o   A new Halloween-themed Extraction Dungeon, the Horror Extraction Pit
o   The Halloween-themed Komabor World Boss – Horror Komabor
Next Article
Gaijin Entertainment has proudly announced the start of War Thunder's open beta test in North America, South America, and Europe.
by MissyS
Red 5 Studios announces its second Chosen Offensive live event for their open world MMO Shooter, Firefall, where players will be battling an a...
by Mikedot
WEBZEN, a global developer and publisher of free-to-play games, announces that the martial arts MMORPG Age of Wulin released its latest expans
by Mikedot